Johnny Depp Taps Keith Richards For 'Pirates Of The Caribbean' Return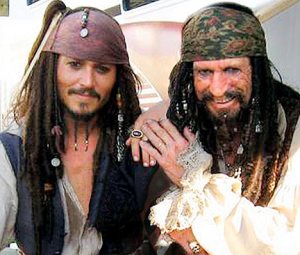 The $3.5 billion Pirates of the Caribbean franchise may see another mega-star reprise in its fifth installment, and it may not just be Johnny Depp. Rolling Stones guitarist Keith Richards may return to the franchise after an invitation from Depp.

Richards has bombarded the franchise in all four installments with his persona alone. Depp made no secret that the superstar musician inspired his flamboyant portrayal of Jack Sparrow since its launch back in 2003 with Pirates of the Caribbean: The Curse of the Black Pearl.
Richards took the cue and sailed into the role of Captain Teague in 2007 with Pirates of the Caribbean: At World's End and again in Pirates of the Caribbean: On Stranger Tides (2011). Now with a fifth return the swashbuckling franchise, even Depp is apparently awaiting Richards' final ayyy or nay, though he teased that the plank has been lowered for his return.
"I spoke to Johnny a couple of weeks ago and he said, 'Are you up for another one?' I can leave it at that because I know no more," Richards told BBC 6 Music. "But I do have the costume! (It helps because) some kids who don't know nothing (sic) about the Rolling Stones go, 'There's Johnny Depp's dad! There's Captain Teague, arrgh!"
Keith Richards and the rest of his Rolling Stones crew have hit the big screen more recently in Brett Morgen's documentary Crossfire Hurricane, which had a premiere bash last month at the BFI London Film Festival and is currently making the fest rounds. The feature marks the bands' 50 years together.
[Source: Hollywood.com]