Morgan Spurlock To Direct One Direction 3-D Pic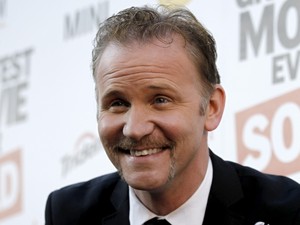 Super Size Me director Morgan Spurlock will take on a boy band for his next project and rabid fans will get a 3-D view. U.K. group One Direction will be the subject of a film by the Oscar-nominated director in a project that will be produced by X-Factor producer Simon Cowell.

One Direction - Niall Horan, Zayn Malik, Liam Payne, Harry Styles and Louis Tomlinson - have had a meteoric rise since they were plucked into notoriety by Cowell's original British version of X-Factor in 2010. The five-some quickly became one of the competition's all-time popular acts. They finished in the final three, but more importantly, they amassed a massive fan base.
In March 2012, One Direction's debut album, Up All Night, made a splash stateside, making them the first British group to have a debut album enter the U.S. Billboard 200 chart at number 1. The band has sold over 13 million records worldwide and today the group released their sophomore album, Take Me Home, which includes the hit single, Live While We're Young.
The TriStar Pictures project is set for an August 30, 2013 release, which lands on Labor Day weekend in the U.S. and Canada. Morgan Spurlock, Ben Winston, Simon Cowell, and Adam Milano will produce the film.
[Source: Deadline]