Ho-Leia Mo-Leia! Is AnnaLynne McCord Secretly Auditioning For 'Star Wars Episode VII'?
The desire to dress up in skimpy sci-fi costumes is strong in AnnaLynne McCord.  The Insider.com posted a curious photo gallery of the 90210 actress in a number of odd get-ups from the show, including a shot from next week's episode in which she dresses up in a replica of the famous metallic bikini that Carrie Fisher wore in Return of the Jedi.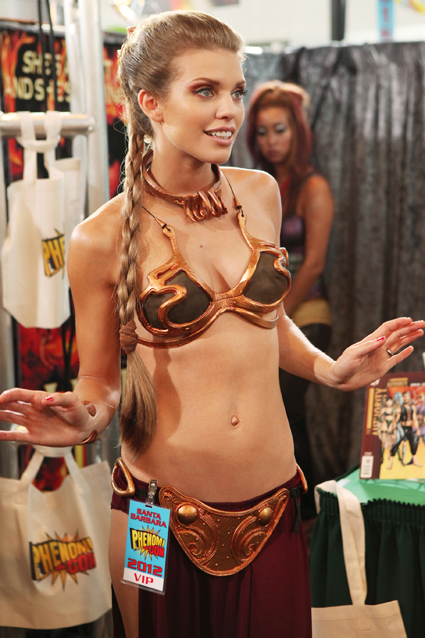 According to the site, McCord, who plays Naomi,  dons the costume for a trip to a comic convention where her nerd husband Max is selling a video game.
It's good timing for McCord and the producers given that fanboys and girls and the media are all atwitter over Disney's plans to bring Star Wars Episode VII to the big screen in 2015.
Who knows, if the right person is watching, McCord could land a walk-on as a Twi'lek Jedi or some other role that calls for a barely-there costume and a toothy smile.
Apparently, it's not the first time that McCord has channeled her inner geek.  In another gallery photo, she appears to be dressed as an Avatar Na'vi, sporting blue skin and a tail and a similarly hued cut-out dress.
Follow Frank DiGiacomo on Twitter.
Follow Movieline on Twitter.