'Skyfall' Blitzes The Box Office With Sizzling Opener And A Bond Record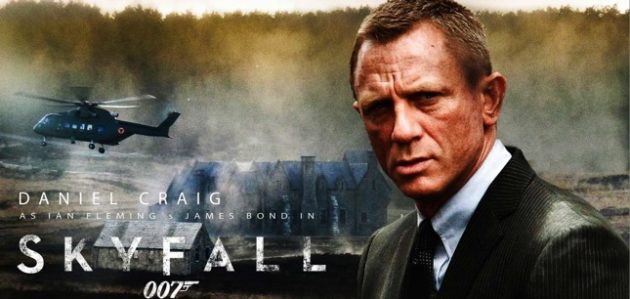 The 23rd James Bond film lived up to its lofty hopes at the box office, continuing its stellar run Stateside after scoring hundreds of millions overseas including the U.K. where it opened theatrically late last month. The third 007 feature starring Daniel Craig grossed $87.8 million plus $2.2 million from Thursday night IMAX screenings. Skyfall's total pushed the box office's top 10 to over $159.1 million. Wreck-It Ralph placed second after debuting atop the box office last weekend. Steven Spielberg's anticipated Lincoln, meanwhile opened in limited release at just 11 theaters with a stunning $81,800 per screen average. It should easily be in the upper echelon if not the top grossing film next week when it goes wide.

1. Skyfall
Gross: $87.8 million (Cume: $90 million)
Screens: 3,505 (PSA: $25,050)
Week: 1
Skyfall stole the box office over the weekend with the highest grossing Bond opening in the franchise's fifty year history. Quantam of Solace opened with $67.5 million which was the previous record. The latest film's was also double Casino Royale's $40.8 million debut which was the current 007, Daniel Craig's, first turn as the dashing British operative. In addition to this weekend's $90 million take, it has grossed $428.6 million worldwide.
2. Wreck-It Ralph
Gross: $33,056,000 (Cume: $93,690,000)
Screens: 3,752 (PSA: $8,810)
Week: 2 (Change: - 32.6%)
The pic dropped one spot in its second weekend, remaining in the same number of theaters in its second round. Last weekend it debuted with a $13,070 screen average. With momentum going its way, a $200 million gross is not out of the question.
3. Flight
Gross: 15.1 million (Cume: $47,770,299)
Screens: 2,047 (PSA: $7,377)
Week: 2 (Change: - 39.4%)
The film, which debuted at the New York Film Festival last month dropped almost 40% added 163 theaters in its second weekend and remained third in the overall box office chart. Flight's total compares to star Denzel Washington's $41.9 million total for the 2010 thriller Unstoppable at this point in its release. That film ended up at $81 million.
4. Argo
Gross: $6,745,000 (Cume: $85,710,958)
Screens: 2,763 (PSA: $2,441)
Week: 5 (Change: - 33.9%)
The Ben Affleck-directed film held solid in its first month with only incremental declines week to week. This time, it had its most sizable drop. Still, it has held on and in 11 less theaters than last week and it dropped one spot.
5. Taken 2
Gross: $4 million (Cume: $131.2 million)
Screens: 2,487 (PSA: $1,608)
Week: 6 (Change: - 32.4%)
The feature topped the box office in its early October debut, but then skidded heavily in its second weekend. Since then it dropped less severely though its sixth weekend drop at nearly 33% compares to the previous weekend's 23% decline. Still, the film placed fifth as did last week with 152 less locations.
6. Here Comes the Boom
Gross: $2.55 million (Cume: $39,061,095)
Screens: 2,044 (PSA: $1,248)
Week: 5 (Change: - 27.7%)
The pic dropped 270 screens from the previous weekend, though its nearly 28% drop shows the movie is holding solidly going into its second month in release.
7. Cloud Atlas
Gross: $2,525,000 (Cume: $22,711,706)
Screens: 2,023 (PSA: $1,248)
Week: 3 (Change: - 53.1%)
The film debuted with a $9.6 million gross, but fell 44% in its second weekend and a much steeper 53% drop in the third. Its reported $100 million production budget will be a huge loss for sources that invested in this 'independently produced' feature, which will struggle to top out at $30 million.
8. Pitch Perfect
Gross: $2,503,800 (Cume: $59,030,443)
Screens: 1,391 (PSA: $1,800)
Week: 7 (Change: - 18.3%)
The film's $17 million budget has been more than tripled in the box office. Pitch Perfect dropped only 18.3% after dropping 111 locations from the previous weekend.
9. The Man With The Iron Fists
Gross: $2,489,760 (Cume: $12,718,085)
Screens: 1,872 (PSA: $1,330)
Week: 2 (Change: - 68.5%)
Ouch, the title added four locations but dropped a stunning 68.5% and dropped five spots from its opening. Still the pic's $15 million budget should handily be made up, minus P&A.
10 Hotel Transylvania
Gross: $2,350,000 (Cume: $140.9 million)
Screens: 2,566 (PSA: $916)
Week: 7 (Change: - 46.7%)
The animated pic lost 356 theaters vs last weekend. Worldwide, the feature has grossed over $270.4 million. Not bad for an $85 million budget. It has been losing momentum, but it may cross $150 million before all is said and done.
[Sources: Rentrak, Box Office Mojo]
Subscribe To Us On YouTube!

Watch This Video on Youtube