Dorothy's 'Oz' Dress Goes For $480K; James McAvoy Eyes WikiLeaks Pic: Biz Break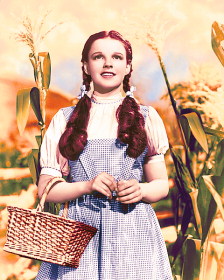 Also in Monday's early round-up of news briefs: Cloud Atlas may have had a slow start in North America, but it is possibly proving to be a big hit overseas; The Weinstein Company is grabbing a thriller starring Chris Evans, Jamie Bell and Octavia Spencer for theaters; And Chasing Ice tops out the Specialty Box Office over the weekend.

The Weinstein Company Nabs Bong Joon Ho's Snowpiercer
The thriller stars Chris Evans, Song Kang-ho, John Hurt, Ed Harris, Tilda Swinton, Jamie Bell, Octavia Spencer, Ewen Bremner and Alison Pill and set in the future. After a failed experiment to stop global warming, an Ice Age kills off all life on the planet except for the inhabitants of the Snowpiercer, a train that travels around the globe and is powered by a sacred perpetual-motion engine. A class system evolves on the train but a revolution brews. TWC picked up rights in the U.S., Canada, U.K., Australia, New Zealand and South Africa.
Around the 'net...
Dorothy's Oz Dress Goes for $480K
Judy Garland wore the blue gingham when she was whisked away by a tornado landing her in Oz with her dog Toto. The wholesome frock was mismatched with a sparkling pair of ruby-red slippers which caught the eire of that wicked old witch. The dress sold for $480,000 at Julien's Auctions in Beverly Hills this weekend. Also selling, Steve McQueen's racing jacket ($50K) and a prop watch worn by John Belushi in The Blues Brothers ($15K), Deadline reports.
James McAvoy Eyes WikiLeaks Pic
The Last King of Scotland director wil join Benedict Cumberbatch in the untitled project about the website that released classified information online. Cumberbatch will play WikiLeaks founder Julian Assange while McAvoy is in talks to play Daniel Domscheit-Berg, the German "technology activist" who was Assange's associate at the site for three years, The Guardian reports.
Specialty B.O.: Chasing Ice Sizzles; Royal Affair, The Comedy, Starlet So-So
Chasing Ice froze out the specialty competition among newcomers on Skyfall. The documentary released by sales company Submarine's distribution label grossed $21,000 in a single theater, NYC's Cinema Village. Magnolia's Royal Affair averaged $5,714 in 7 locations, while Music Box's Starlet averaged $2,670 from 6. Kino Lorber's Isabella Huppert-starrer In Another Country debuted in a single location with $3,500, and Tribeca Film's The Comedy took in $6K at one cinema, Deadline reports.
Cloud Atlas Poised for Int'l Comeback
The drama by Lana and Andy Wachowski and German helmer Tom Tykwer grossed $9.7 million in Russia and Ukraine over the weekend, the first two territories on its international release. The two territories combined to out-perform Cloud Atlas' release in North America, where the Warner Bros. title earned about $9.6 million on its opening weekend, THR reports.