WATCH: 'Rust And Bone' Star Marion Cotillard Does Not Like The Term 'Killer Whale'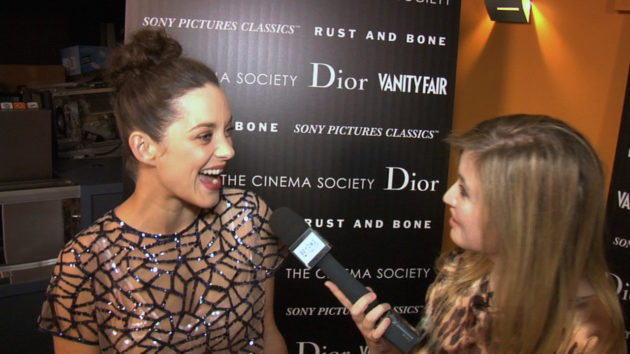 Don't use the term "killer whale" in front of Marion Cotillard.  In her new Oscar contender Rust and Bone, the actress may play a whale trainer who loses her legs to one of the creatures, but at an advance screening of the picture in New York on Thursday, Cotillard told me she prefers the term "orca."  Free Willy the movie is not, but that didn't stop Cotillard from bonding with her new aquatic pals.
In my red carpet interview, below, Cotillard also has something to say about Americans who don't watch French films.
Cotillard looked stunning in Christian Dior, who hosted the screening along with Vanity Fair and The Cinema Society.
Rust and Bone hits theaters Nov. 23.
Follow Movieline on Twitter. 
Follow Grace on Twitter.