5 Rock 'N' Roll Martial Arts Life Lessons From 'Miami Connection' Guru Grandmaster Y.K. Kim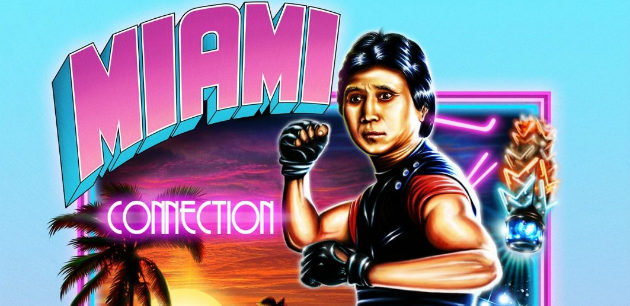 5 Rock 'N' Roll Martial Arts Life Lessons From 'Miami Connection' Guru Grandmaster Y.K. Kim
1. PHYSICAL FITNESS
Grandmaster Y.K. Kim says: "Everybody is looking for self-improvement. In the martial arts world we are teaching five different kinds of fitness. When they watch this movie they can feel that a little bit. If you practice martial arts, you will build physical fitness so you can be healthier and strong."
In Miami Connection: Mark and Dragon Sound train together in Tae Kwon Do, which allows them the black belt martial arts skills they can use to fend off biker ninjas and rival rock 'n' roll bands on the streets of Central Florida.
2. MENTAL FITNESS
Grandmaster Y.K. Kim says:"If you practice martial arts you will develop mental fitness, so you will be wiser and smarter."
In Miami Connection: Mental fitness helps the members of Dragon Sound make wise choices, like studying hard in college and dreaming up international tours of each others' home countries to promote peace.
3. MORAL FITNESS
Grandmaster Y.K. Kim says: "If you practice martial arts you have an opportunity to build moral fitness, so you can be full of inner power and have true peace in your heart, and be a confident individual."
In Miami Connection: Strong moral fitness helps keep the members of Dragon Sound together and not killing over stupid cocaine or hanging out with naked biker chicks like those evil ninjas do.
Side note: You might think that Miami Connection's high violence quotient and handful of naked biker chick boobs might violate the tenet of "Moral Fitness," but Diamand explains how the latter came to pass:

Diamand: "We really wanted to incorporate a massive feel for a biker gang, so in the process we got a lot of bikers together and for this one scene where there's a parade of bikers we had maybe 50 bikers. In order to get everyone together we had to entice them with a party. And so we filmed the party as well and took it inside to make it more of a meet-up between the White Ninja, Yoshida, and Jeff. And as bikers do when they get to partying, they really didn't hold anything back, and we continued to film. We never asked anyone to take their shirts off!"

Y.K. Kim: "They volunteered!:

Diamand: "In fact, we had to turn several away because we thought we had enough. It was a one time thing, it was real, it was a party, and we didn't really know how it was going to progress. We only had one shot at it, and you see the result."

Y.K. Kim: "That was so funny."
4. FINANCIAL FITNESS
Grandmaster Y.K. Kim says: "We live in the richest country in the world but 80 percent of Americans live paycheck to paycheck because they don't have financial fitness. We teach how to be wealthier so you can have financial power and financial freedom. If they build financial fitness they can have the tools to have great lives."
In Miami Connection: Dragon Sound works hard to rock Central Florida every night to pay their way through school with hard-earned money. And they pay their dinner bills, unlike SOME PEOPLE.
5. LIFE FITNESS
Grandmaster Y.K. Kim says: "If you practice martial arts you can build life fitness. Life fitness means leadership; you need to know how to control your own destiny, and at the same time you're not living by yourself. We need to build a network. When you're that way you can have true freedoms."
In Miami Connection: Mark exhibits strong Life Fitness as the leader of Dragon Sound, but each of the members know the value of friendship. Alone they get kidnapped by ninjas and held hostage in junkyards. Together, they totally kill those ninjas.
As seen in Grandmaster Y.K. Kim's The New American Dream, available at his website:
Find Tickets to a Miami Connection screening on the Drafthouse Films website. Miami Connection is also available through Tugg.com, a platform that allows people to choose the films they want to see at theater and create their own screenings for their community. Go here to request a screening in your town. (Note: the film will not be available through Tugg where there are current theatrical engagements.)
Follow Jen Yamato on Twitter.
Follow Movieline on Twitter.
Pages: 1 2