WATCH: Daniel Day-Lewis 'Eastwooding' At BAFTA Los Angeles Britannia Awards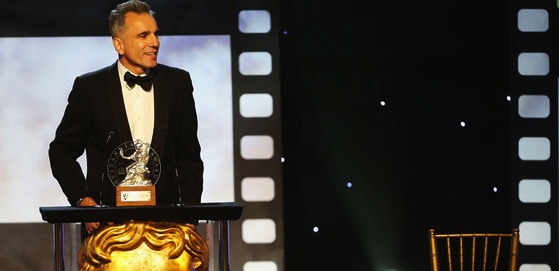 Daniel Day-Lewis may specialize in weighty roles, but that doesn't mean he's without a sense of humor. The star of Lincoln cracked up the crowd at the BAFTA Los Angeles Britannia awards on Wednesday when he referenced Clint Eastwood's now-famous empty chair speech at the Republican National Convention this past summer.
REVIEW: Daniel Day-Lewis Brings A Great American Hero to Life In Spielberg's Timely 'Lincoln'
After Steven Spielberg presented Day-Lewis with the Stanley Kubrick Britannia Award for Excellence in Film, Day-Lewis motioned to an empty chair sitting next to the podium, as if he were urging someone sitting in it to stay seated.  The crowd seemed to immediately get the joke.
Day-Lewis explained that he'd been up since 2 a.m. watching CNN, and turning once again to the chair, said  he was "extremely glad and grateful" that the "recently reelected president  of this country was able to make it here tonight."
He then told the audience, "I love Clint Eastwood. This is no satirical comment on him or his politics or anything else, but I have to say that when I saw him talking to a chair in front of a room full of strangers,  I thought: I've got to try that!"
Check out the video of Daniel Day-Lewis' chair speech below:
Follow Frank DiGiacomo on Twitter.
Follow Movieline on Twitter.