'Eat Sleep Die,' 'A Royal Affair' Win Top AFI Fest Awards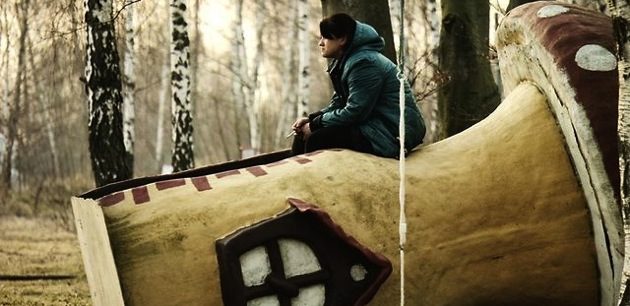 Gabriela Pichler's Eat Sleep Die won the Gand Jury Award, at AFI Fest Thursday afternoon, while A Royal Affair by Nikolaj Arcel won the Audience Award in the World Cinema section. Danish filmmaker Tobias Lindholm won the Audience Award among the fest's list of New Auteurs and Only the Young by Jason Tippet received the audience prize among its "Young Americans." David Tosh Gitonga took the Audience nod for "Breakthrough" for Nairobi Half Life.

"It has been an incredible year in film and we're grateful for having had the opportunity to showcase so many wonderful films," said Jacqueline Lyanga, Director of AFI Fest in a statement. "Our desire is to have these films reach an even wider audience after these eight festival days, and that our jury and audience awards contribute to building an audience for these films."
AFI Fest closes out Thursday night with the World Premiere of Steven Spielberg's Lincoln.
AFI Fest 2012 Winners
Jury Awards, New Auteurs (with descriptions provided by AFI Fest):
Grand Jury Award: Eat Sleep Die by Gabriela Pichler
Description: A Montenegrin-born young woman living in rural Sweden, Raša is laid off from her job at a food-packing plant. Her ensuing job search pulls us through the maze of limited prospects and frustrating bureaucracy facing the country's working immigrant population. Affable, resilient, street smart and soft-hearted, Raša's natural magnetism draws us in completely. We feel every ounce of her disappointment, fear and elation as she soldiers on, looking for work. An Audience Award winner at the Venice Film Festival, Eat Sleep Die's assured naturalism and political conviction single out Pichler as a bold, exciting new cinematic voice.
Special Mention for Performance: Simon Killer's (DIR Antonio Campos) Mati Diop for "her contribution to Simon Killer as both an actress and screenwriter."
Description: follows recent graduate Simon as he travels to Paris to escape the fallout from a former relationship. No matter how hard he tries, Simon can't seem to shake the past and feelings of lost love. Instead, he fills his days traveling the streets and taking in the sites, while composing letters to his ex-girlfriend, engaging in chat room sex and hitting on girls in the streets. When he meets a beautiful prostitute and falls in love, everything begins to unravel and we discover that Simon is harboring some dark secrets.
Special Mention: Here and There by Antonio Mendez Esparza
Description: After many years in New York, Pedro returns home to Guerrero, Mexico, to an overwhelmed wife and daughters he barely knows. Pedro struggles to secure a job in town and establish his place as the head of the household. Just as the family begins to regain their balance, Pedro and his wife Teresa are thrown into turmoil, facing a difficult pregnancy and the prospect of a new child.
Audience Awards (with descriptions provided by the festival)
World Cinema: A Royal Affair. DIR Nikolaj Arcel. Denmark/Sweden/Czech Republic/Germany.
Description: In the age of enlightenment, a young woman becomes Queen of Denmark via an arranged marriage, but shortly after the ceremony it becomes clear that the young king suffers from mental illness. German physician and philosopher Johan Struensee is called to attend the unstable King and an epic romance results between the doctor and the queen, giving Johan the power to make transformational social changes within the Danish kingdom. Based on a true story, A Royal Affair is Denmark's official submission for Academy Award consideration.
New Auteurs: A Hijacking. DIR Tobias Lindholm. Denmark.
Description: One mistake can mean life or death to the crew on board a Danish ship taken hostage by Somali pirates. In Denmark, the shipping company's CEO boldly ignores advice from a hostage negotiator and speaks on the phone directly with the pirate's translator, Omar. Conditions worsen on the claustrophobic ship as the psychological pressure intensifies and months pass while negotiations continue. Shifting from the chaotic conditions onboard to the offices of the Danish shipping company, A Hijacking skillfully examines the art of bargaining in this fraught, high-pressure drama.
Young Americans: Only The Young. DIR Jason Tippet, Elizabeth Mims. USA.
Description: North of Los Angeles stands the city of Santa Clarita, where once-affluent neighborhoods now buckle under the strain of economic recession. Inside one of the town's vacant houses, teenagers Garrison Saenz and Kevin Conway build a skateboard ramp in an empty room. The two best friends — punkish and no strangers to rowdy behavior — are as devoted to preaching the Gospel as they are to the half-pipe. Add to the mix Garrison's on-again, off-again girlfriend Skye, a whip-smart, devout Christian facing a devastating foreclosure on her home; and Kristen, Garrison's liberal-thinking, hip-hop dancing possible new paramour and you've got enough teen love, happiness and heartache to fill a deeply affecting screenplay.
Breakthrough: Nairobi Half Life. DIR David Tosh Gitonga. Kenya/Germany.
Description: Despite his parents' wishes, Mwas leaves his small village and embarks on a journey to Kenya's capital in order to pursue a career in acting. Naïve and filled with hope, he quickly learns why the city is nicknamed "Nairobbery." A few innocent mistakes land him in jail, which eventually leads Mwas to connect with a gang. Although he learns how to survive in the dangerous and sprawling urban center, Mwas is torn between his new lifestyle of theft and violence and his dream of becoming an actor.
Grand Jury Awards, Live Action and Animated Short - AFI Fest Grand Jury Award winners in the Live Action and Animated Shorts categories as qualifiers for the annual Academy Awards Short Film category.
Grand Jury Award, Live Action Short: Introducing Bobby by Roger Hayn "for crafting an honest vision of America by making an insightful portrayal of a single man."
Grand Jury Award, Animated Short: Oh Willy… by Emma De Swaef and Marc Roels "for melding a dynamic narrative with innovative animation style that leads the viewer to pure wonderment."
Special Jury Award for Animation: Belly by Julia Pott "for its personal touch to technique and playful storytelling that is a welcome addition to the pantheon of animation."
Special Jury Award for Documentary Filmmaking: Whateverest by Kristoffer Borgli "for constructing a film that contextualizes the digital generation and reflects on what happens when we turn the camera onto ourselves."
Honorable Mention for Performance: Narcocorrido (DIR Ryan Prows) for Raul Castillo's "penetrating lead performance that conveys a sense of loss that leaves a lasting mark on the audience."
Honorable Mention for Promising Vision: Dogs Are Said to See Things by Guto Parente "for pulling together social criticism with a pool party and actually making something fresh and smart."