WATCH: Kristen Stewart Channels The Fierce Bella Swan In 'Today' Interview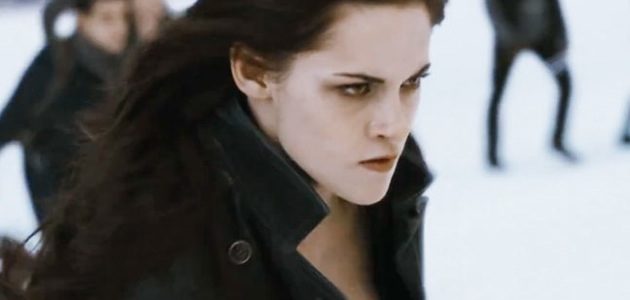 As Bella Swan goes, so goes Kristen Stewart. The Twilight saga star appeared on Today on Wednesday to talk a bit about her evolution from passive heroine to ass-kicking vampire in Breaking Dawn - Part 2, and ended the interview with a quote which suggests that,  like Bella, Stewart has learned to be more of a bad-ass when it comes to her fans' and the media's prying into her personal life.   
Stewart looks typically uncomfortable self in the clip below, and awfully tired.  When the Today cameras first zoomed in on her, I thought the dark circle beneath her right eye looked like a shiner. But what made an even bigger impression was the way in which the actress handled the inevitable question about her off-screen relationship with Robert Pattinson.
Keep in mind that, in the clip. Stewart is facing three interviewers by her lonesome:  Savannah Guthrie, Matt Lauer and Natalie Morales. That's not easy, though four people took part in Stewart's 2009 Today interview for Eclipse.
Guthrie gets the RPatz question in just as the Today theme music begins signaling that the interview segment is ending. "Kristen, you have so many fans, and they will be mad at us for not asking," she says before asking if Stewart and Pattinson are back together.
Watch Stewart's face as she processes the question.  She flashes a split-second expression of annoyance before responding with an answer that would probably meet the new Bella's approval:  "Funny you mention that," Stewart replied in a deliciously deadpan manner before putting a nice sharp stake in heart of the off-screen romance story.  "I'm just going to let people watch whatever little movie they think our lives are and go for it. Keep them guessing, I always say."
A little mystery goes a long way.
Follow Frank DiGiacomo on Twitter.
Follow Movieline on Twitter.