High And Low: Early Fritz Lang, Late John Carpenter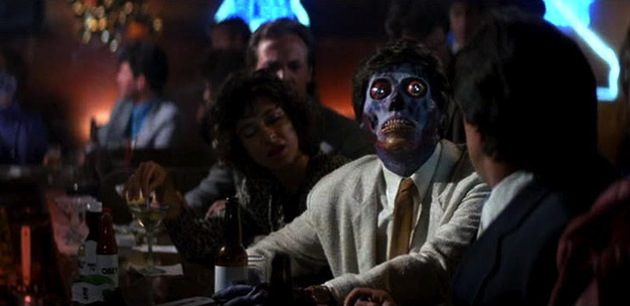 This week's new DVD releases make it easy to put a little Highbrow dark chocolate in your Lowbrow crunchy peanut butter and enjoy a satisfying double feature . Whether you're in the mood for serious German cinema (that mixes in some genre tropes) or ass-kicking science fiction (flavored with pungent political satire), there's plenty for all tastes this week.
HIGH: Fritz Lang: The Early Works (Kino Classics; $39.95 DVD)
WHO'S RESPONSIBLE: This trio of early works by legendary German director Fritz Lang includes an adaptation of the classic opera Madame Butterfly and two films Lang co-wrote with his then-wife Thea von Harbou  that feature actor Rudolf Klein-Rogge — two key collaborators on Lang's masterpiece, Metropolis.
WHAT'S IT ALL ABOUT: 1919's Harakiri, the Madame Butterfly adaptation, tells the story of a Japanese girl and her doomed romance with a European officer who abandons her. The Wandering Shadow (1920), Lang and von Harbou's first collaboration, follows a woman fleeing from a sex scandal and her eventual shot at redemption. Four Around the Woman, from 1921, sees a socialite falling victim to a crime…or is she involved in a blackmail plot?
WHY IT'S SCHMANCY: Before he fled Nazi Germany, before M and Metropolis, even before Spies and the Dr. Mabuse movies, Fritz Lang was a successful filmmaker in Weimar-era Germany, when Expressionism was the happening thing. For scholars who wanted to explore the master's entire oeuvre, however, many of Lang's earliest films were difficult to access. Harakiri was one of four films Lang made in 1919, his first year as a director. And yes, the film has German actors performing in yellowface, but at least the filmmakers bothered to get genuine Japanese costumes and artifacts from the Hamburg Anthropological Museum. This DVD features restorations mastered from 35mm elements.
WHY YOU SHOULD BUY IT: Fritz Lang: The Early Works should appeal to more than just Lang completists. Anyone who cares about the roots of movies or just wants to check out silent cinema at its most vibrant should pick up this collection.
LOW: They Live (Collector's Edition) (Scream Factory; $19.93 DVD, $29.93 Blu-Ray)
WHO'S RESPONSIBLE: Written (under the pseudonym "Frank Armitage") and directed by John Carpenter; starring "Rowdy" Roddy Piper, Keith David, Meg Foster.
WHAT'S IT ALL ABOUT: A homeless drifter (Piper) finds a stash of special sunglasses that allow him to see the truth about the world around him: the rich and powerful are actually aliens who are destroying the planet and manipulating humans with subliminal messages in the media that induce people to consume mindlessly and to conform.
WHY IT'S FUN: Released in 1988, Ronald Reagan's last year in office, They Live is one of the most stinging satires of the Gipper's era. Carpenter basically implied that yuppie-ism and the rest of the decade's excesses were the product of cultural manipulation. (Okay, so extraterrestrials were behind the whole thing, but it's an intriguing idea.) And if you're not in the mood to look for political perspective, there are gross aliens and crazy shoot-outs and a fight scene between Piper and David that goes on…and on…and on…into cinema legend.
WHY YOU SHOULD BUY IT (AGAIN): This new Collector's Edition features great new goodies, including interviews with Foster (who's still got Those Eyes), David and Carpenter, plus previously unseen footage from the original TV spots for the movie and a featurette on the visual style, scoring and stunts. (There's also a Carpenter-Piper commentary track that's been previously available.)
Alonso Duralde has written about film for The Wrap, Salon and MSNBC.com. He also co-hosts the Linoleum Knife podcast and regularly appears on What the Flick?! (The Young Turks Network).  He is a senior programmer for the Outfest Film Festival in Los Angeles and a pre-screener for the Sundance Film Festival. He also the author of two books: Have Yourself a Movie Little Christmas (Limelight Editions) and 101 Must-See Movies for Gay Men (Advocate Books).
Follow Alonso Duralde on Twitter.
Follow Movieline on Twitter.