'Simon Killer' Exclusive: Antonio Campos's Dark Odyssey Gets A Kubrickian Poster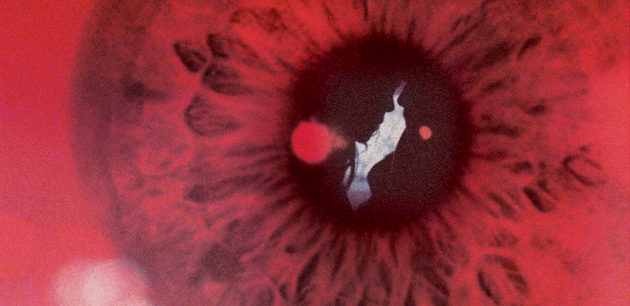 The Martha Marcy May Marlene camp notches another chilling character study in the AFI Fest selection Simon Killer, an unsettling look at a young American's dark descent in Paris directed by Borderline Films' Antonio Campos (Afterschool). Glimpse what lies in store with the film's hauntingly gorgeous, Kubrickian poster design, exclusively on Movieline.

Brady Corbet stars as Simon, a college grad traveling abroad who meets a Parisian prostitute (Mati Diop) and takes up with her, entrenching himself in her life in the shadowy streets of the Pigalle. Entrancing and provocative, Simon Killer constructs a sensory cinematic study around Simon's psyche as he's revealed to be more complex, and more dangerous, than what he seems.
The visual parallel to 2001: A Space Odyssey's famous "eye" poster is an intriguing comparison point to draw; Simon Killer is quite a trip in itself, a portrait of an affable twentysomething's innocuous-enough wanderings through Paris that takes unexpected turns, forcing the audience to re-examine their perceptions of, and sympathy to, its protagonist. (The poster design is by Brandon Schaefer of Seek & Speak.)
Simon Killer is set for release via IFC in April of 2013; it screens today, November 5 and again on November 7 at AFI Fest, which is a great opportunity to see one of the boldest and most provocative films we'll see in the coming year.
Read more on Simon Killer here.
Follow Jen Yamato on Twitter.
Follow Movieline on Twitter.