UPDATED: Leonardo Da Vinci's Straight Sex Scene In 'Da Vinci's Demons' Trailer Stirs Debate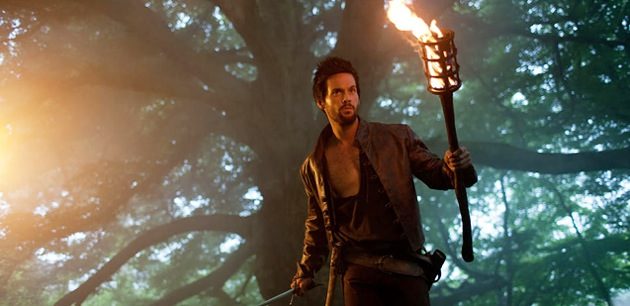 How do you stir up controversy for a pay-cable TV series about a guy who's been dead since 1519?  If he's Leonardo Da Vinci, who a number of biographers have concluded was gay, and you're the Starz pay cable network, you depict Tom Riley, who plays young Leonardo with a British accent, having what appears to be sex with a masked woman in the trailer for Da Vinci's Demons, the "historical fantasy" created by The Dark Knight  franchise screenwriter, David S. Goyer.
The series doesn't debut until spring 2013, but since the trailer hit the Internet, some blogsites, such as After Elton, have wondered if the inventor and genius was being "Straight-Washed" to use a term in the headline of their post.  The initial frisson of controversy may have just been a Da Vinci-clever publicity stunt, however, since after a Starz representative contacted AE, the site revised its post to suggest readers "wait and see" before getting their 2(X)IST briefs in a twist.  (I've also heard from someone in the know that you shouldn't draw any conclusions from the trailer.)  A spokeswoman for Starz declined to comment on the show.
That's not the only thing that will upset historical purists.  The 15th-Century scenes in the Da Vinci's Demons trailer are set to a 2011 dance club tune, "Sleepwalking" by Photek (featuring Linche on vocals) and, in his blog, Goyer alludes to a run-in that Da Vinci has with "Vlad Dracul," the Romanian prince who inspired Bram Stoker's Dracula.
UPDATE: Goyer has released a statement to Movieline:  "Da Vinci was not a man that could be confined. Our show will embrace his many complexities."
Here's the trailer.
Follow Frank DiGiacomo on Twitter.
Follow Movieline on Twitter.