Win A 'Silver Linings Playbook' Signed Poster With Your Best 10-Word Review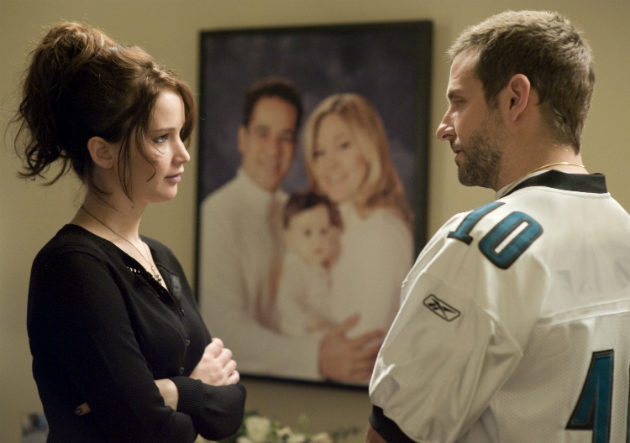 David O. Russell (The Fighter) is gunning for awards season again with his Silver Linings Playbook, and Movieline's got a signed poster from the Oscar hopeful to give away! So sharpen your pencils and your wits and submit your best 10-word review of any film by director Russell for a chance to win.

Silver Linings Playbook stars Bradley Cooper as Pat, a guy who's lost everything - job, marriage, sanity - and moves back in with his parents (Robert De Niro, Jackie Weaver), where he meets an intriguing woman named Tiffany (Jennifer Lawrence).
The dramedy has been steadily gaining momentum since its debut at the 2012 Toronto Film Festival, and marks Russell's second film in two years to aim for the Oscars. (Read more at the Silver Linings Playbook Facebook page, where sports nuts can submit their best-worst sports obsessions and listen to four Pandora playlists "selected" by the film's eccentric characters.)
CONTEST RULES:
- Submit an original 10-word review of any David O. Russell-directed film in the comments below, on Twitter, or on Facebook. Entries must be exactly 10 words, no more, no less!
- Enter with your full name and an email address where you may be reached.
- One (1) winner will be selected and announced on Friday, November 2. Contest ends Friday, Nov 2 at 5pm ET/2pm PT -- so get to reviewing!
More Silver Linings Playbook goodies can be found over on Facebook:
The Silver Linings Playbook "Gameday" allows fans to join in on the Solitano family sports obsession by submitting their own game day superstitions, the best of which will make it onto the Silver Linings Playbook website.
Meanwhile, music fans can check out the Silver Linings Playbook "Playlist" app, which allows you to listen to four different playlists created by the four main characters in the film. For example: Jen Lawrence's Tiffany is a Dave Brubeck kind of girl; Bradley Cooper's Pat Jr. likes his Tom Petty.
Silver Linings Playbook hits theaters November 21.
Follow Jen Yamato on Twitter.
Follow Movieline on Twitter.