High And Low: The Heights Of Hitchcock And An Overlooked Gem By 'Bridesmaids' Director Paul Feig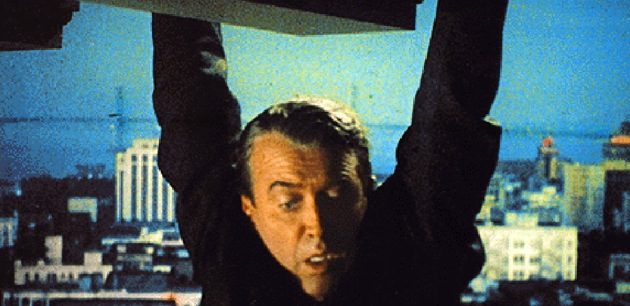 It's Hitchcock in the morning, Hitchcock in the evening,  Hitchcock at supper time given the upcoming Hitchcock movie, the recently-aired HBO flick The Girl, Blu-Ray releases of Dial "M" for Murder (in 3D!) and Strangers on a Train, and now a sumptuous new collection of the Master of Suspense's work.  On the other end of the spectrum is a kids' holiday movie that never got the acclaim it deserved — but now that director Paul Feig has gone on to make a little film called Bridesmaids, maybe it has a shot at cult status.
HIGH: Alfred Hitchcock: The Masterpiece Collection (Universal Studios Home Entertainment; Blu-Ray $299.98)
WHO'S RESPONSIBLE: This impressive set features 15 films directed by the Master of Suspense.
WHAT'S IT ALL ABOUT: Hitchcock plied his trade at a number of movie studios over the years, so this is hardly a complete retrospective of his legendary career. That said, Universal offers a sumptuous array of some of his best movies (and a few that aren't the greatest). Recent Sight & Sound magazine chart-topper Vertigo pops up, alongside such cherished classics as Psycho, North by Northwest and The Birds. The box set also includes such lesser-known but equally unforgettable films Shadow of a Doubt, Frenzy, Rope, Marnie and Saboteur.
WHY IT'S SCHMANCY: Hitchcock's career is notable for more than his directorial talent. After David O. Selznick brought him to the U.S., Hitchcock became one of the most successful Hollywood filmmakers of his time. Then the French film critics who later started the New Wave, made the case that Hitch wasn't merely a genre director but rather an artist and auteur. He scored a trifecta of sorts when the Alfred Hitchcock Presents TV show, featuring his droll wrap-arounds, made him a household name in this country in a way few directors ever accomplish. All three Hitchcocks — the journeyman, the visionary and the self-promoter — are on display here.
WHY YOU SHOULD BUY IT (AGAIN): Only a few of these titles have been previously available on Blu-Ray, and there are enough extras here to stun an ox, from audio excerpts of the famous Hitchcock/Truffaut interviews to trailers and documentaries. Leonard Maltin even pops up to provide a defense for one of my least-favorite Hitchcock movies, Topaz. If anyone's going to make me rethink a film, it's Maltin.
LOW: Unaccompanied Minors (Warner Home Video; DVD Double Feature with Dennis the Menace Christmas $12.97)
WHO'S RESPONSIBLE: Written by Jacob Meszaros and Mya Stark, based on the story by Susan Burton; directed by Paul Feig; starring Dyllan Christopher, Gina Mantegna, Lewis Black, Wilmer Valderrama.
WHAT'S IT ALL ABOUT: Spencer (Christopher) and his younger sister Katie (Dominique Saldaña) are flying on their own — "unaccompanied minors," in airline-speak — to spend the holidays with their father when they get snowed in at a Midwestern airport. Big brother and a bunch of other solo-traveling youngsters must outsmart the airport's Christmas-hating manager (Black) to make sure Katie gets her present from Santa.
WHY IT'S FUN: OK, yes, it sounds like your typical Home Alone rip-off, but Unaccompanied Minors deftly mixes youthful angst (they're all the children of divorce) and hilarious hijinks in a way you'd expect from Feig, the creator of Freaks and Geeks. As with his critically-acclaimed NBC series, Feig has a great eye for casting the kids (the juvenile cast includes Brett Kelly from Bad Santa and Everybody Hates Chris' Tyler James Williams). He also loads the cast with a team of comedic all-stars that includes Teri Garr (as a woman whose holiday decorations are so aggressive that they scare passers-by), Rob Corddry, Sandra Tsing Loh, Mindy Kaling, B.J. Novak, Jessica Walter, Tony Hale, Dave "Gruber" Allen and three of The Kids in the Hall.
WHY YOU SHOULD BUY IT: If you've got kids you need to keep entertained this holiday season, or if you want to check out a comic gem that was mostly ignored at the time of its release, this one's absolutely worth picking up.
Alonso Duralde has written about film for The Wrap, Salon and MSNBC.com. He also co-hosts the Linoleum Knife podcast and regularly appears on What the Flick?! (The Young Turks Network).  He is a senior programmer for the Outfest Film Festival in Los Angeles and a pre-screener for the Sundance Film Festival. He also the author of two books: Have Yourself a Movie Little Christmas (Limelight Editions) and 101 Must-See Movies for Gay Men (Advocate Books).
Follow Alonso Duralde on Twitter.
Follow Movieline on Twitter.