Agyness Deyn On London-Set Pusher Remake And Her Move From Modeling To Acting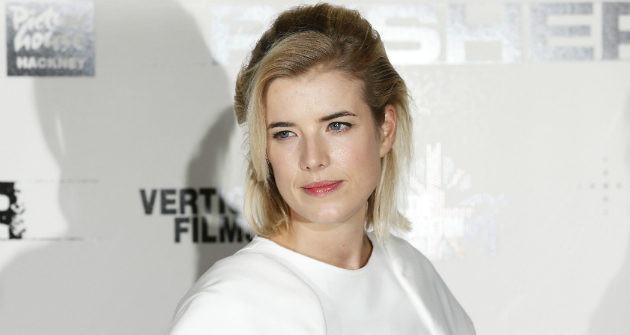 "It's not just another movie about drugs and gangsters," British model-turned-actress Agyness Deyn says of Pusher, Luis Prieto's London-set remake of Nicolas Winding Refn's 1996 Danish crime drama, about a drug dealer named Frank (Richard Coyle) who's about to have the worst week of his life. In her second feature film credit Deyn plays Frank's heroin-addicted girlfriend Flo, radiating with a unique combination of sensual maturity and naivete that makes Flo's devotion, and Frank's downward spiral, all the more tragic.

It's a bold career move for Deyn, the first and biggest dramatic role in her transition from modeling to acting. The 29-year-old made her feature debut as Aphrodite, goddess of love, in 2010's Clash of the Titans — a small role in a big film, but an experience that Deyn says "indicated to me that this is exactly what I wanted to do."
How is the onetime runway superstar adjusting to her new life of script readings and auditions? Deyn rang Movieline for a chat about Pusher, how changes to the remake alter Flo's story — and by extension, the film's central relationship — and her ongoing pursuit of a second career in acting.
The film is set in England rather than Denmark – what do you think bringing it to London adds or changes to the story?
It's really great because Luis [Prieto] the director is Spanish, so that added this really amazing element – it was like having new eyes. Even me living in London for a long time, you view it in a certain way. And when someone else shows it to you it's like, whoa — it's so different, you know? I think that was a really great thing about it. Also the way Luis incorporates it, all this nightlife — the clubs, it was like another character, another element. It was the heartbeat of the film and pacing with the music, and altogether it was incredible.
Frank's life changes over the course of just a week; he goes from this fairly glamorous existence as a drug dealer to seeing his entire world come crashing down in a matter of days. But there's a slight difference between this version and the original in terms of Frank and Flo's relationship; Flo is a stripper, but not a prostitute, and they're in a relationship even if that's shaky at best.
Definitely. The biggest difference is in Flo's involvement, and that was really great as well because I didn't actually watch the original because Luis asked us not to. But I'm glad that people tell me that she's more relatable, which is great because it takes it to the next level. Women tell me, 'I was on Flo's journey with her,' and for me it's not just another movie about drugs and gangsters.
Flo is dealing with kind of the worst boyfriend ever. He's preoccupied with his drug deals gone wrong and these frenemies that will probably try to kill him, but even before that he's emotionally closed-off to her. I'd imagine there are more than a few women who'd relate to Flo's arc and the decision she eventually comes to.
That's what I loved about her, you could really relate to her in that way. You just want to pick her up and carry her away, don't you?
We don't really know Frank and Flo before the events of the film, like how they met, or when. What sort of back story did you folks work out to flesh out the roots of their relationship?
Going in the club, being on the scene. I feel like they really do love each other, it's just that there are barriers, they keep on missing each other.
There's a beautiful shot of you at the end, which I won't give away, which I feel is slightly more optimistic than the original. What's your take on that, would you agree?
I feel like she's not going to just stand for it, she feels like she's been betrayed. I feel like she is like that. She's a dreamer, she's a romanticist, she's a mover — she wants to live life and experience things and push the limit and I think that's what she's doing. 'No, this isn't okay for me — so I'm out of here,' you know?
Pusher comes along at an interesting point in your acting career, after over a decade spent being very successful in the modeling world. Was acting a longtime goal of yours?
I just studied it at college, and I didn't really know what I wanted to do and I kind of fell into modeling. I had a 12-year job on my plate, which was amazing, but what I did realize while modeling was that I did want to do a job that was creative. I really enjoyed creating a character when I was modeling, and I was like, wow — I can take that to the next level and create a character in a movie. So that was the evolution of what I wanted to do.
Has it been difficult to decide on which projects to take, how careful to be in your choice of roles as you carve out your acting career?
I'm a young actress, starting a career — I read scripts, I audition, and I get it or I don't get it. I don't expect that because I was successful in one field that I will then get a ride of passage into another. I know that I've got to work hard and deliver the goods, and I've got to do it, and show up. I liked Pusher and I especially liked how English and gritty it is, because I like to watch that. So I auditioned for it, and it was in their hands whether I did it or not.
Before Pusher you appeared in Clash of the Titans, which was of course a blockbuster-scale film. How would you compare and contrast your experience on those sets, those being two of your first films?
Clash of the Titans, I played such a small role but it was a perfect opportunity to get my foot into acting and in a huge way, because it was a big studio movie. It had incredible actors, like Liam Neeson and Ralph Fiennes, and watching them at work it felt more like an observational job, rather than a hands-on job. It was so great to see actors like that working. It was like, this is how they do it! And the freedom that they had, it was so inspiring to watch. It really indicated to me that this is exactly what I wanted to do. Then with Pusher it was like incredible — it was low budget, and family-oriented. It felt safe and exciting and driven, and creative in so many ways.
What did you learn about yourself, or even about yourself as a performer, from your work on Pusher?
I think it was that I was part of a bigger picture, you know? Telling the story, being part of that. And also to have fun; I learned so much from Richard Coyle, who played Frank, about dedication and commitment, pushing the boundaries. From Bronson Webb who plays Tony I learned that you can have so much fun in it; he's so fun, such a live-wire. All these different elements that work — I learned so much from everyone in that way, my eyes and ears open.
Do you feel that there are misconceptions about models who turn actors that you'd like to prove wrong?
I don't really want to prove anyone wrong. I just want to do a job, and do well at that. Personally as well, I want to to a job to the best of my abilities and learn and grow, and I think that if I can do that, I'll feel happy. But I don't want to make anyone wrong. I suppose there will be people that have their views, no matter what happens. So if I just do what I'm doing, then that's the most important thing for me.
Pusher is in limited release.
Follow Jen Yamato on Twitter.
Follow Movieline on Twitter.