Tom Hanks Is Everywhere! Promotes 'Cloud Atlas' And Pal Spielberg's 'Lincoln' In Single Night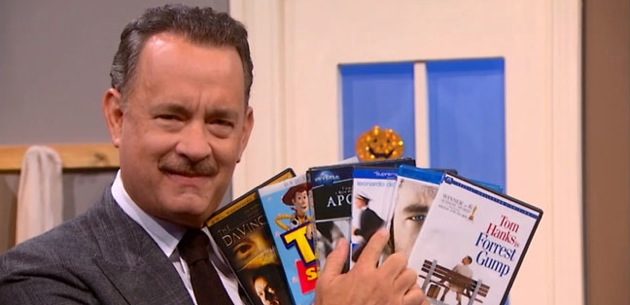 If human cloning has begun, I'd like to wager some money that Tom Hanks is an early adopter. The actor has been everywhere over the last week,  making the media rounds to promote his latest picture,  the ambitious Cloud Atlas,  and his friend Steven Spielberg's film Lincoln as well. 
On Comedy Central's The Colbert Report on Thursday night, the actor worked in a clever nod to the six roles he plays in Cloud Atlas (well, four of them, anyway) in a Halloween-themed skit that featured kids costumed as some of the more memorable characters that Hanks has portrayed over the years, including Woody from Toy Story, Chuck Noland from Cast Away, replete with a "Wilson" volley ball cut open to function as a candy bag, astronaut Jim Lovell from Apollo 13 — an "Oscar-denied hero" as Hanks pointed out — and Captain Miller from Saving Private Ryan. His co-star in that film, Matt Damon,  even made a cameo dressed as a soldier to grouse about being in the skit and say that that he'd rather be drunk at a movie theater "heckling Argo,"  his bud Ben Affleck's picture.
I particularly love Hanks having fun with his nice guy image — at one point, he grouses about "that punk Joseph Gordon Levitt nipping at my heels" — and the self-promotion chores of Hollywood. After telling Colbert: "Six characters in one movie, isn't it great!", one of the kids in Cloud Atlas costumes  declares: "I smell Oscar buzz!"
The segment ran almost 10 minutes, but the there was more of Hanks to be had on TV that night.  If you had your DVR recording The Late Show with David Letterman, Hanks also appeared in what the talk-show host claimed was a clip from Spielberg's Lincoln. Funny, I never knew that they served popcorn and trash-can sized cups of soda at the Ford Theater back in Lincoln's day.
Two more reasons why Hanks isn't just aces as an actor, he's one of the most entertaining talk-show guests out there.
Follow Frank DiGiacomo on Twitter.
Follow Movieline on Twitter.