The Loneliest Planet: Julia Loktev Journeys With Young Lovers & Revolution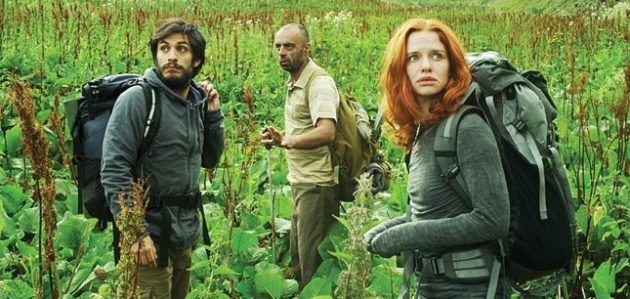 In Julia Loktev's The Loneliest Planet, Gael García Bernal and relative newcomer Hani Furstenberg (Yossi & Jagger) play a young engaged couple backpacking through the Caucasus Mountains in the former Soviet republic of Georgia the summer before their wedding. Their stunning journey is guided by a local villager, but the vast terrain crowds an emotional upheaval that threatens to tear down their promising life together. Loktev spoke with ML about her own visit to the country that inspired the film which has won praise at festivals this year and is headed into theatrical and VOD release this weekend. The making of The Loneliest Planet was a journey unto itself though everyone on board was determined to make it all happen.

"The shoot was basically like an expedition," Loktev told Movieline. "We were based in a village, but a lot of the time we camped. We'd have to get up in the darkness and carry everything on our backs so we could get to our location to get the early morning light. It was sometimes scary…"
Loktev first conceived of what would become The Loneliest Planet while traveling in Georgia with a boyfriend. She was off to a film festival there and he planned to bike through the country as well as neighboring Armenia. After one week, their relationship was over and they went separate ways. While on a long bus ride to the capital, Tbilisi, she conceived the story that would eventually take the form of Alex (García Bernal) and Nica (Furstenberg).
Travel binds the pair who willingly take on cultural disjointedness, mastering key phrases like "hello," "thank you," "please," "how much?" "cheers" etc. They are comfortable with each other and their shared love of travel. But one fleeting moment could wreak havoc on their future. Their guide (played by local mountaineering hero Bidzina Gujabidze) is with them every step of the way. The couple are haunted with an unsaid tension, but cannot verbalize anything.
"I tried to have a natural situation unfold," said Loktev. "For me, this was a situation in which this couple couldn't talk about this thing that existed between them. The things that could be said are almost too obvious to be said. So what was interesting to me was how this couple could communicate when they really can't communicate... This couple is going through the biggest crisis in their relationship while they're traveling with this guide who is now with them in this vastness. The parallel would be having a fight with your lover or friend and you now have to go out to dinner with someone together. You can't really work things out in that moment."
An international actor who has worked with veteran filmmakers from North and South America and Europe, García Bernal took on the role of Alex early on. He told Loktev he had a fascination for the Caucasus region since grade school after reading Lermontov's Hero of Our Time.
"Gael has an easy masculinity. He has a playful quality and he's able to bring all those qualities to his character," said Loktev. "And I was interested in him doing something in which he couldn't rely on words so much as doing something very interior and very subtle."
Financing dramas nearly pulled the production away from Georgia to an isolated region in China when a producer from the country offered to give resources after an initial investor pulled out. Loktev traveled to China, saying she was trying to "find Georgia in China," but then sudden political strife in the area quickly closed down any chance of shooting there.
"They had riots that were some of the biggest in years and then the Chinese government cut off internet and cell phone access," recalled Loktev. "We couldn't get in touch with people and from there it ended up screwing our production. The last thing they needed was an American crew making a film. That fell apart and I came back from China just devastated. I wasn't sure if we were going to have to wait another year. But lucky both Gael and Hani stuck with it and the movie ended up where it's supposed to be - in Georgia."
After finding more financing through Germany and America, Loktev headed to Georgia. The region had had its own conflict in recent years. The short but devastating war between Russia and Georgia came just as Loktev initially scouted the country for her shoot some years before actual production commenced.
"Gael joked with me that if I went to scout a location in Switzerland, that they'd have a revolution there. [laughs] I just bring trouble [more laughs]. But luckily, by the time we got there, things had stabilized," said Loktev. "There was still an uneasy peace though. We were in this strange border town about 10 kilometers from Russia. And the border couldn't be crossed."
[Sundance Selects roles out The Loneliest Planet in limited theatrical release this weekend followed by other cities. It's also available via On Demand]