Robert Pattinson Reflects On Twilight And Bella's Vampire Transformation In Oz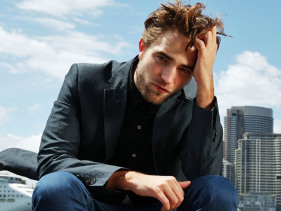 The Twilight Saga: Breaking Dawn - Part 2 machine is underway and the film's on and off-screen couple are headed out on the road - though separately for now. Kristen Stewart headed to Tokyo to talk up the wildly successful conclusion to the vampire franchise, while Robert Pattinson flew Down Under for his whirlwind of engagements in Australia. While Twilight distributor is holding a strict "no-go" as far as questions about the real-life R-Patz/K-Stew drama that gripped segments of the celebrity-fueled chatter world in late summer/early fall, Pattinson did bring her up at a meeting with Oz journalists and more on his final play as Edward Cullen.

Media hounds have prognosticated a real-life reconciliation though Pattinson stayed on script, only talking up the vampire finale. He gave Stewart a shout-out for her transformation into a vampire in the series.
"Yeah, she was really excited about being a vampire. Everybody else who'd been pretty consistently in the movies, they'd obviously been playing a vampire like every day for ages. And so it's funny seeing someone suddenly come into it and try and figure out their own version of the physicality and the mentality of it. But her character has a different thing, because she's supposed to find it really easy. It's supposed to be a natural progression for her to become a vampire, it's supposed to be simple. So I guess it was kind of different. "
The previous four Twilight features have grossed over $3.2 billion worldwide and the features have catapulted Pattinson, Stewart, Taylor Lautner and a host of others into stardom (some into stratospheric stardom) though Pattinson gave a careful response when asked if he'd take part in a new series spin-off if the chance should arise.
"I don't say 'definitely not' to anything. Just in case."
Pattinson recalled how he almost quit acting before the first Twilight landed in his lap, but naturally the series changed all that.
"Yeah, it is very odd. I think that a lot of actors go through the same thing, when you've literally gotta be just like 'Ugh, this is pointless.' That's the only time you ever seem to get any jobs - you've gotta be at rock bottom! But yeah, it's funny. I was like fully, fully intending not to do it anymore, and then this came up."
He said earlier this year during an interview with ShortList.com that he felt sort of "useless" playing the same part over and over. "You just run out of ideas," he quipped. "You don't know what to do any more. I'm not trying to get away from it. You're screwing yourself, you're saying you think your work is shit if you try to get away from it. And I never thought it was. I kind of got to the end of my inspiration. You get to the point where you're like, 'I don't want to do a film for a teen audience any more.'"
Post-Twilight promotion, Pattinson will be heading back to Australia for his next project.
"My next thing I'm doing in Australia with this guy David Michod who did 'Animal Kingdom,' and Guy Pearce," he told MTV Australia. "That's going to be fun."
Directed by Bill Condon, Breaking Dawn - Part 2 opens in the U.S. November 16th. The Twilight gang will undoubtedly be heading to the States for more Breaking Dawn talk - and perhaps in the same room.
[Sources: Yahoo!, MTV Australia]