Poster Debut: 'Allegiance,' Starring Bow Wow And Fringe's Seth Gabel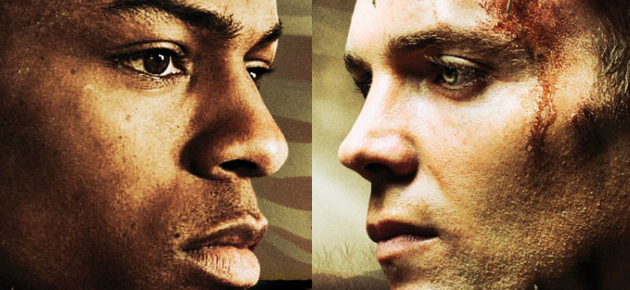 Two soldiers face tough choices in the military drama Allegiance; skilled National Guard medic Specialist Chris Reyes (Bow Wow) faces redeployment to Iraq away from his sick son, while his superior (Seth Gabel) must decide whether or not to help him go AWOL, risking his own career in the process.

Adapted from writer-director Michael Connors' 2006 short Recalled, the film marks a welcome lead turn by Gabel (Fringe, Dirty Sexy Money, Nip/Tuck), and the continuing evolution for rapper-turned-actor Bow Wow (or as the poster says, "Shad Moss AKA Bow Wow"), whose previous acting credits include Like Mike (obviously!), Entourage, Roll Bounce, Fast & Furious: Tokyo Drift, Lottery Ticket, and Madea's Big Happy Family.
Aidan Quinn, Malik Yoba, and Pablo Schreiber co-star in the indie drama (formerly titled Recalled), which opens January 4, 2013 through XLrator Media.
Check out the exclusive poster debut and updated trailer below:
Synopsis:
After being granted a questionable transfer that will keep him stateside as his National Guard unit deploys for Iraq, Lieutenant Danny Sefton (Seth Gabel) becomes embroiled in a last minute AWOL attempt by one of his soldiers (Bow Wow) -- forcing him to choose between his loyalties to the fleeing soldier, his unit and his fiancé.
Follow Movieline on Twitter.