Rachel Nichols on Alex Cross, Alias, And Her Tyler Perry-Star Trek Connection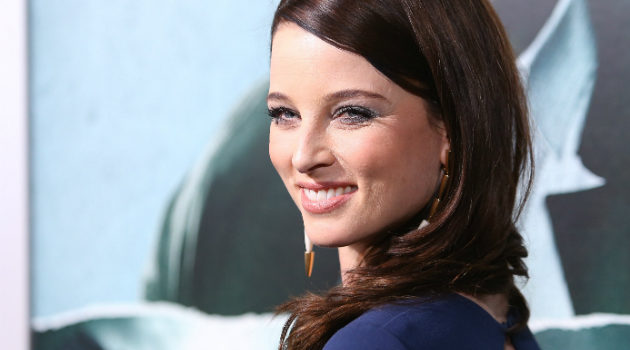 As a tough Detroit cop in Rob Cohen's Alex Cross Rachel Nichols (G.I. Joe, Conan) hunts a maniacal serial killer (Matthew Fox) alongside Tyler Perry, who attempts to crossover from his niche following to the mainstream with the James Patterson crime thriller. But it's not the first time the co-stars shared a scene, as Nichols recalled with a laugh: "It took me four days to say, 'You know what's really funny? We were in Star Trek together!'"

Nichols, down to earth and vivacious in person, has built a career of primarily dramatic roles in film and television since making her feature debut in the comedy prequel Dumb and Dumberer: When Harry Met Lloyd. Proving herself both game and capable for an array of physical demands has invited an action heroine streak to sneak into her filmography; between the survival horror P2, 2009's G.I. Joe: The Rise of Cobra, and last year's sword-and-sandals adventure Conan (not to mention a guest turn on Criminal Minds and her ongoing lead role as a cop from the future in the 12 Monkeys-esque Continuum), Nichols is a short list of Hollywood actresses with believable action chops.
(As if that wasn't awesome enough: Nichols also stars in and executive produces the upcoming Raze, an indie film also starring Zoe Bell that she describes as "Hostel meets Fight Club meets Gladiator," with women.)
Read on for Nichols' chat with Movieline about her work in Alex Cross, her Tyler Perry-Star Trek connection, and nerding out over the role that kick-started her action career: J.J. Abrams' Alias.
Tyler Perry is the big draw and fascination in this film, stepping out of his comfort zone, but how familiar were you with him and his work before working on this movie?
I had seen a bunch of the Madea movies and I've always contended that anybody that can do comedy, and can do comedy well, can do anything in the entertainment realm. I think comedy is the most demanding and difficult and the most harshly criticized, and Tyler has this presence about him; as soon as I shook his hand the first day on set I knew he could do this. No problem. He's got this presence, and he's very approachable, and he's very kind — he's got these really expressive eyes, and then we were doing the tactical training and spitballing and laughing and I thought to myself, he could really do this. And I thought it was a really interesting choice, because I do like it when people step out of their comfort zone. And I'm sure that for years people have been saying, "Tyler, do this — or Tyler, do that project," and I thought it was really cool that he chose this one.
The movie opens in the middle of an action sequence, with you, Tyler, and Ed Burns chasing down a perp. Tyler eventually catches him first, but I've seen you in enough action roles to second guess that outcome. In real life who would win in a foot race?
Hmm. I've never been particularly fast. I don't know! I've never seen the man run. That's a really good question. He got in great shape for the movie. But I bet Matthew [Fox] would beat all of us.
His physical transformation was astounding.
I know! What he created and what he did… when I saw him on set I didn't work with him, but I saw him at dinners and out and when I saw the film and really watched what he did, I was blown away. I've known Matthew – we have the same manager, I've met him a bunch of times, I loved Party of Five like every other woman in America, I loved LOST — and when I saw him in this, I found him incredibly scary, which is a testament to the job that he did because he's not incredibly scary.
Was it scary to see him around on set, living in the skin of Picasso?
I saw him around and he seemed very much into it but it wasn't like he was Method all the time, that guy the entire time day in and day out. But obviously the diet and the fighting and the training, he was so dedicated. It was interesting to watch knowing what he had put into it.
I find it interesting that you and Tyler share a Star Trek connection.
I know! It's really funny. I had never met Tyler before, and when I met him, immediately he was so disarming and so easy to be around that it took me four days to say, "You know what's really funny? We were in Star Trek together!" It was this one big scene where they're at the hearing for the Kobayashi Maru test and I'm the one green girl in this sea of cadets and he's this high commander. It was really funny — I briefly met him then, I think I shook his hand – and it seems like a lifetime ago. But yeah, Tyler Perry and I share our Star Trek connection.
You've had a history of unlucky characters who don't quite make it very far, so to speak, but you've also done a number of really big projects. What's your perspective on how your career's shaken out so far?
[Laughs] I'm lucky [knocks on wood] — I've been able to do some really fun things, whether it's G.I. Joe or Conan, huge movies…
And Alias!
Alias! Alias was awesome. I do a show now called Continuum which is going to come to the States, fingers crossed. It just premiered in the U.K. and it was a big hit in Canada, now we're going to do season two so that's super awesome. But Alias was my first taste — I watched Jen [Garner], pregnant at the time, do this lead role on this show and I just thought, gosh, this job is insane! And now I'm clearly not pregnant but doing the lead on this show, and I love it. I want to try to do anything, though you'll never see me sing in a movie. I warn people that I'm tone deaf, so that'll never happen. But I don't mind when I make an interesting exit from a film, that's totally fine. [Laughs] My parents would prefer not, but this was such a fun role and I love the twist. I love how this thing that we're talking about but we're not talking about right now, it's such a surprise.
You mentioned that your parents would like to see you in a rom-com or something like that, but things don't quite work out that way.
I would love to see myself in a rom-com! I did an edgy little one a couple of years ago called A Bird Of the Air with Jackson Hurst and we had the best time. It was really fun, and it was emotional and it had its sad moments, but it would be great to have a co-star like Jackson who you get along with, which makes it so easy to have fun.
How did you find yourself falling into so many action roles?
I love the action stuff, and it started with Alias. Alias is the first time I ever had to do a fight scene.
Had you trained in that world before?
No! It was all very new to me, and I was obsessed with the show. When they hired me I didn't tell them I was a crazed fan because I thought they might decide not to hire me. I had seen every freaking episode. I lied and said, "Oh, I've seen a few — it's a really good show." But I was obsessed!
You were like, Rambaldi, what?
I was like, "Oh my god, is that an artifact? Can I touch it? Can I put it in my purse?" [Laughs] I was madly in love with the show so that's where it started. Then, you know, I think it's really cool because Jen Garner has always known she could do action. She could pick up a sword and go do a big action movie and people will say she's totally believable as a woman and a fighter. When you get to the point where you're established enough that people link you with something, especially being an action hero babe, it's awesome. Because then you can fight the battles and have the crossbows and wrestle with swords and ride the horses because you're already believable, people see you in that genre. Then it's even more fun to kick ass. There's also the strong female character aspect that I like about it. And it also keeps me in good shape; if I'm doing an action movie, I'm staying in good shape.
Action heroines remind me of that Ginger Rogers/Fred Astaire line; she could do everything he could do, only backwards and in high heels. And so often in action roles actresses are also required to be glammed up while kicking ass.
It's one of those things, and learning a fight is like learning a dance. You have the training, you know the moves, and you put it all together. Sienna Miller and I had an epic fight scene in G.I. Joe, and that stuff's just fun to do. Then when you see it on the screen and you look like such a bad ass you think, "Alright, I'm just going to sit back and rest on my laurels and look awesome!"
What else is on the horizon for you beyond returning to Continuum?
I'm going to go back and do Continuum and I did this movie called Mechanic in Philly that a friend of mine directed, with David Morse and Mike Vogel. And I also executive produced and am also acting in this film called Raze, which we're editing right now. It's sort of Hostel meets Fight Club meets Gladiator, but it's all women.
That may be the best description of any film, ever.
Oh, yeah. Check it out online!
Alex Cross is in theaters now. Read more here.
Follow Jen Yamato on Twitter.
Follow Movieline on Twitter.