POLL: Who You Gonna Call For The 'Ghostbusters 3' Cast?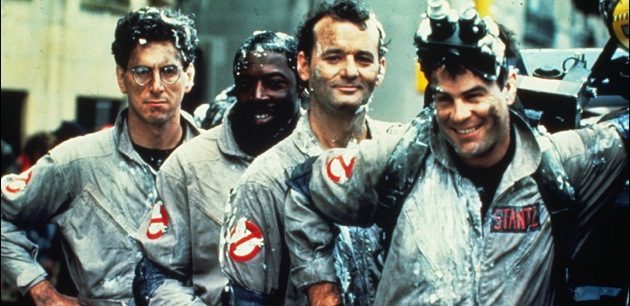 With Deadline reporting that Ivan Reitman is expected to begin filming a Ghostbusters reboot next summer, sans Bill Murray,  and Dan Aykroyd  saying that he and Harold Ramis will hand over the original crew's Proton Packs to a new generation, it's time to start dreamcasting a new team of spectre battlers. 
Famous Monsters of Filmland, cites an August appearance by Aykroyd on comedian Dennis Miller's radio show in which the O.G. (Original Ghostbuster) explains that Tropic Thunder screenwriter Etan Cohen has written a great script from a story by  The Office writers Lee Eisenberg and Gene Stupnitsky in which a blind-in-one-eye Dr. Ray Stantz (Aykroyd) and a rather portly Dr. Egon Spengler — "who's too large to get into the harness" — decide to recruit a new team of Ghostbusters. According to the site, Aykroyd is looking for "three guys and one young woman" to pick up the mantle, which is sure to have a lot of agents working the phones for their actor clients.
In 2009, I interviewed Ramis for a Vanity Fair.com piece I did on the Ghostbusters video game and he told me a similar story. He and Aykroyd, who wrote the first two Ghostbusters scripts, were consulting with Eisenberg and Stupnitsky on the third, and he told me that the idea was that the original slime-fighting crew were going to be 'the mentors, the emeritus Ghostbusters" and pass the torch to "a new set of actors that can actually carry the franchise forward without wearing girdles and fake hair."
At the time, Ramis told me that his Year One, co-star Michael Cera was a "huge fan" of Murray's Venkman character and that he'd learned from a third party that Cera carried "a Ghostbusters wallet."
All these years, I still like the idea of Cera joining a new Ghostbusters crew that would also include Seth Rogen, Christopher Mintz-Plasse, Jay Pharoah from Saturday Night Live and Madeleine Martin from Californication.
Now tell me which actors you'd like to see christened the new Ghostbusters. Pick four actors you'd like to see cast in the reboot. You don't have to follow Aykroyd's "three guys and one woman" comment as a guideline, but it would be nice. If you don't see your choices in the poll below, leave it in the comments section, and if I think they're plausible, I'll add them to the list of potential candidates.
Follow Frank DiGiacomo on Twitter.
Follow Movieline on Twitter.