Daniel Craig Gets Physical To Be In James Bond Tip-Top Shape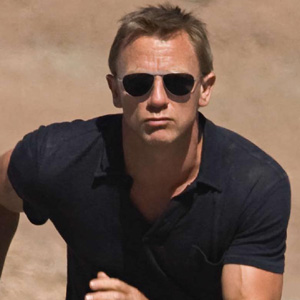 In Casino Royale, Daniel Craig made a memorable impression as the sexy 007, wearing a snug swimming suit. But Craig had to work it to attain that physique and it's not something he maintains between James Bond stints. But he didn't have a hard time getting back to top-notch form.

Speaking with a bit of tongue-in-cheek at a Skyfall press day over the weekend in New York, Craig told Access Hollywood. "It's just quite a ball, quite frankly. I mean, [I've] just got to do it."
Craig said a doctor told him that his routine was the same as playing a football [soccer] match every day with little rest. "You're playing Monday, Tuesday, Wednesday, Thursday, Friday, Saturday, and then taking Sunday off.' Normally, football players would come Saturday or Sunday and take three days off at least," Daniel said. "So I was sort of constantly sort of bashed up. So keeping in shape -- it was just so I moved -- at all."
In Skyfall, Craig switches a swim suit for a simple towel in one scene, and said producers gave him the heads up so he could get ready for his close-up.
"I kind of have to work towards that. Luckily, we kind of plan those out beforehand, so I can kind of work to make sure I'm kind of in as good of shape as I can be for those scenes," he noted.
Aside from physical prowess, Craig gave his views on Bond who he sees as a spy in the traditional sense. In the latest version of the James Bond series, the character, Q, makes a return, played by Ben Whishaw.
"What I love [about the film is] the story sort of brings in this idea of sort of the old world and the new world of espionage, and the government officials in the movies were talking about cutting corners and saying, 'Well, we'll send in drones and we can spy on people with satellites. We don't actually need to have people in the field.' Bond's obviously opposed to that," said Craig. "He thinks you've got to be there, you've got experience it, you've got to look people in the eye. So, with bringing Q back in, who's sort of that new school and Bond, who's of the old school - that clash - hopefully it's going to be a quite exciting journey to go on with those two."
Skyfall opens in the U.S. beginning November 8th. It debuts in theaters October 23rd in the U.K.
[Source: Access Hollywood]