'Moonrise Kingdom' Contest: Win An iPad With An Ode To Dangerous First Loves (Updated With Winner)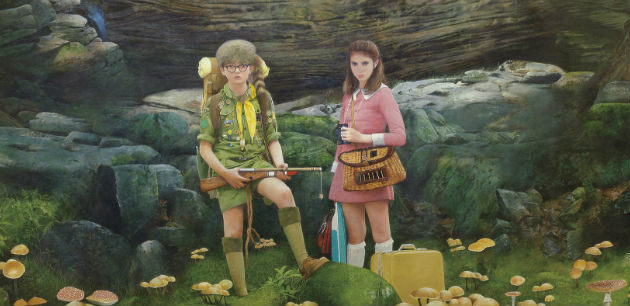 What kind of bird are you? Make like Wes Anderson and pen your own ode to first love and you could win a grand prize iPad courtesy of Moonrise Kingdom, which hits DVD and Blu-ray this week.
We'll award the Movieliner with the most powerful original haiku dedicated to childhood romance, Sam & Suzy style — so crank up that Françoise Hardy, traipse down memory lane, and get to memorializing your own nostalgia-fueled tribute to puppy love.
The rules are simple: Submit an original haiku (using the 5-7-5 format) inspired by either Moonrise Kingdom or your own first love, in the comments below. One grand prize winner will receive a 32 GB Apple iPad and Moonrise Kingdom Blu-ray.
Entries are open to ages 18 and up. Winners must be in the U.S. or Canada.
Contest closes Wednesday, October 17 at 5pm ET/2pm PT. Entries must include an email address for contacting winners. Only one submission per person.
**UPDATE: Contest is now closed! Thanks to all who played, and stay tuned as we announce a winner!**
**UPDATE #2: We have a winner!
Among all of the sweet and vivid entries we received, Movieline's editors loved Movieline reader Adam's haiku about a memorable summer camp kiss:
Locking lips at camp
Beautiful girl, nervous boy
...and then I came out
Congrats to Adam, who will be receiving the grand prize of an Apple 32 GB iPad, courtesy of Moonrise Kingdom.
Adam and two runners-up will also receive a copy of the Moonrise Kingdom Blu-ray release, out this week. A hearty round of applause to runners-up PRBRANDT and Doug J. for their submissions, which also sent us back in time with their dreamy imagery of childhood loves past:
PRBRANDT:
She had long striped socks
Mine were short and white, but still
our feet slowly touched
Doug J.:
classroom open house
dad's cologne and my best shirt
she smiles – my face warms
Thank you again to all who entered - stay tuned for our next contest!