Ben Affleck, Bryan Cranston Chat Argo At Glittering NYC Premiere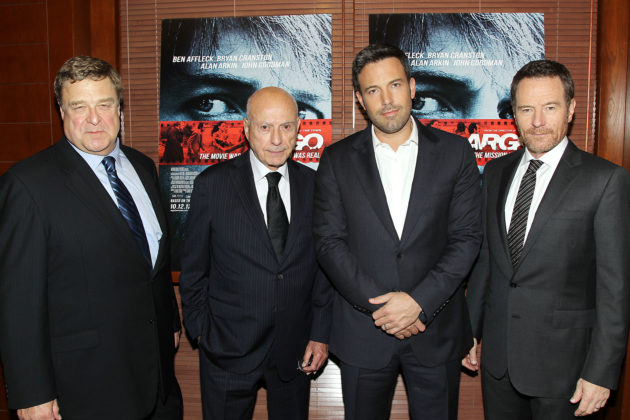 Tuesday night was a celebrity bonanza at the Time Warner Center in New York's Columbus Circle for the New York premiere of director/star Ben Affleck's acclaimed Argo. Stars Bryan Cranston, Alan Arkin, John Goodman as well as producers George Clooney and Grant Heslov were just part of the cortege of A-listers and New York glitterati who dined at the Porter House Steakhouse where Affleck held the spotlight in the bar talking to folks. Guests were divided into two screenings of the Toronto and Telluride film festivals world premiere based on the true story about a CIA agent (Affleck) who rescues six Americans hiding in the Canadian embassy at the dawn of the Iranian hostage crisis that began in November 1979. ML caught up with actor Bryan Cranston as well as Affleck at the event.

Between chatting with a parade of well-heeled well-wishers including best pal Matt Damon, Oliver Stone, Sting, Ted Koppel, Brian Williams and more, Affleck gave a little insight on what motivated him to take on the project, telling ML he decided to make Argo happen because it was a fascinating story that was also a challenge, admitting to some fear in the beginning.
"I wanted to direct it because it's a challenge directorially," he told ML. "It has three competing challenges: It's a comedy, it's a nail-biting thriller and it's a CIA-intrigue spy story. I thought if I can execute that and combine those elements and execute them, unify them and tell something that is true and maintain the integrity of the truth of the stories then I could do something quite special. It's the favorite thing I've ever been involved with."
In the movie, actor Bryan Cranston plays Jack O'Donnell, Affleck's boss at the CIA who is overseeing the operation to rescue the six Americans hiding in the Canadian Ambassador's residence after a daring escape into the streets of the Iranian capital soon after the American embassy was overrun by angry mobs with the acquiescence of the country's new ruler Ayatollah Khomeini. Cranston said he received the Argo script from his agent and that Affleck and producer Grant Heslov had specifically asked for him to read it.
"I thought, 'Oh that's flattering.' And I thought, 'Please God, let the story be as good as the offer,'" he told ML. "And it was quite frankly even better. The story is fantastic. It's true, important and the screenplay by Chris Terrio is great. What I took away from this and what I think what audiences will is that it's a simple story about people being selfless and doing things for all the right reasons - just to save other human beings. There's no greater noble effort than this."
Ahead of production, a fellow actor touted to Cranston the chance to work with Affleck who in turn put a plug in for Affleck's work ethic and being an all-around great guy.
Events such as Tuesday night's are meant to showcase Oscar contenders in their best light. And the Peggy Siegal Company, which hosts a number of these dinners and parties tied to screenings, is front and center in organizing events for titles hitting the awards circuit.
"I got a tip from Jon Hamm, who said, 'You're going to love working with [Affleck].' And I went, 'Oh good,'" said Cranston. "As an actor turned director he's one of the best and just as a director in and of itself, he's terrific. He's a kind and a thoughtful man. And he's willing to do the work. People only see the finished product, but he's very passionate about stories."
"I didn't want to make a story that was partisan right before the election," Affleck said to ML about Argo and the audience he hopes will come to see it when it opens this weekend. "I want a movie that the Repubicans I know and am friends with can go see. I do not want a movie that could be politicized internationally vis-a-vis, Iran. I went to great pains to just tell a factual story with out being didactic or tell the audience what to feel."
Argo Log line:
On November 4, 1979, as the Iranian revolution reaches its boiling point, militants storm the U.S. embassy in Tehran, taking 52 Americans hostage. But, in the midst of the chaos, six Americans manage to slip away and find refuge in the home of the Canadian ambassador. Knowing it is only a matter of time before the six are found out and likely killed, a CIA "exfiltration" specialist named Tony Mendez (Affleck) comes up with a risky plan to get them safely out of the country. A plan so incredible, it could only happen in the movies. Academy Award-winner Ben Affleck (Good Will Hunting) directs and stars in the film, which is produced by Oscar-nominee Grant Heslov (Good Night, and Good Luck), Affleck, and Oscar-winner George Clooney (Syriana).
[AbovePhoto by Marion Curtis/Starpix]