High And Low: A Cat In Paris Is Purr Enchantment, Little Shop Of Horrors Serves Up Shock And 'Aww'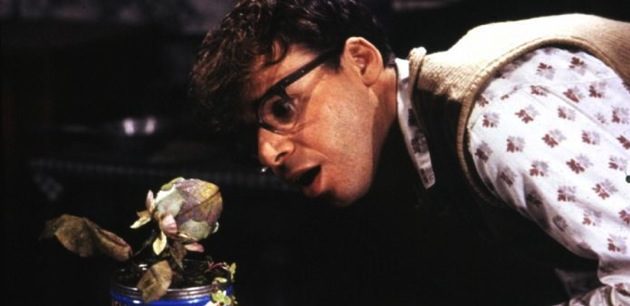 This week gives us a chic, Oscar-nominated animated feature from France and a boisterous musical based on a low-budget cult horror-comedy with a plot point in common: Both films include homages to giant monsters rampaging through urban areas — evidence that there's often a thin line that separates High from Low.
HIGH: A Cat in Paris (Cinedigm/$29.95 DVD; $39.95 DVD/Blu-Ray combo)
Who's Responsible: Written by Alain Gagnol and Jacques Rémy-Girerd; directed by Gagnol and Jean-Loup Felicioli; features the voices of Marcia Gay Harden, Anjelica Huston and Matthew Modine.
What's It All About: Black cat Dino shuttles between two owners who aren't aware of each other. He spends his days with Zoë, a young girl who's been mute since the recent death of her gendarme father at the hand of notorious criminal Victor Costa (voiced by JB Blanc). At night, he slinks about the rooftops of the City of  Lights alongside a burglar named Nico (Modine). Both of Dino's companions will collide when Costa crosses  Nico's path — with Zoë's police detective mother Jeanne (Harden) in hot pursuit.
Why It's Schmancy: The extraordinary advancements in computer-generated animation over the last few decades may now make it possible to realistically render every last hair on a Yeti, but there's still room for old-fashioned illustration that calls to mind the artwork of beloved children's stories. Kids, and adults even, should not live on Pixar alone (much less those crappy Ice Age movies), so mix things up with this gorgeous and eccentrically animated film, which earned a Best Animated Feature Oscar nomination this year. (Plus, you know, the movie is French and set in Paris, which automatically makes things more ra-sha-sha.)
Why You Should Buy It: Both hardcore animation fans and kids with a penchant for drawing will enjoy the Many Lives of a Cat extra, which features art from previous, abandoned versions of the screenplay (one darker, one goofier) as well as pencil sketches and storyboards from the completed version. There's also a silly short called Extinction of the Saber-Toothed Housecat, which screened theatrically with A Cat in Paris.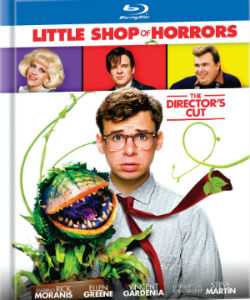 LOW: Little Shop of Horrors: The Director's Cut + Theatrical (Warner Home Video; DVD $14.96; Blu-Ray $34.99)
Who's Responsible: Written by Howard Ashman (based on his play, which was based on the 1960 screenplay by Charles B. Griffith);  lyrics by Ashman; music by Alan Menken;  directed by Frank Oz; starring Rick Moranis, Ellen Greene, Steve Martin and Vincent Gardenia
What's It All About: In this tuneful retelling of the old Roger Corman movie, nerdy Seymour (Moranis) becomes a celebrity when he discovers a strange alien plant, whom Seymour names "Audrey II" in honor of his co-worker and unrequited crush Audrey (Greene). Audrey II winds up being hungry for human flesh, and Seymour strikes a Faustian bargain with him. But once Seymour figures out the sinister plant's true intentions, will it be too late to stop the "Mean Green Mother from Outer Space"?
Why It's Fun: Before Ashman and Menken helped to revitalize Disney animation with their acclaimed score for The Little Mermaid, they made their names with this outrageous horror-musical that skillfully veers from the sincere to the parodic to the terrifying. Greene, the only veteran of the stage version, belts the hell out of these songs while matching comic masters Moranis and Martin in the laughs department. There's also a whiz-bang, what-the-hell energy throughout the movie that makes this a musical to remember.
Why You Should Buy It (Again): The film's theatrical release version featured a happy ending that strayed from the original stage play, but Oz's original darker finale has now been fully restored. (There was a previous DVD with a much messier rough cut of the climax that quickly got yanked from shelves.) This version also features an introduction and commentary from Oz, some outtakes, a documentary and (in the Blu-Ray edition) a keepsake book. (Alas, still no extended version of "The Meek Shall Inherit" to match the version on the soundtrack album.) Now that both endings are available, audiences can debate which one they think works better. Whatever your take, this restoration allows us to see new facets of the performances by Moranis, Greene and the film's hilarious doo-wopping Greek chorus (Tisha Campbell, Tichina Arnold and Michelle Weeks).
Alonso Duralde has written about film for The Wrap, Salon and MSNBC.com. He also co-hosts the Linoleum Knife podcast and regularly appears on  What The Flick?! (The Young Turks Network).  He is a senior programmer for the Outfest Film Festival in Los Angeles and a pre-screener for the Sundance Film Festival. He also the author of two books: Have Yourself A Movie Little Christmas (Limelight Editions) and 101 Must-See Movies for Gay Men (Advocate Books).
Follow Alonso Duralde on Twitter.
Follow Movieline on Twitter.