Taken 2 Leads A Stellar Box Office Weekend; Frankenweenie Peters Out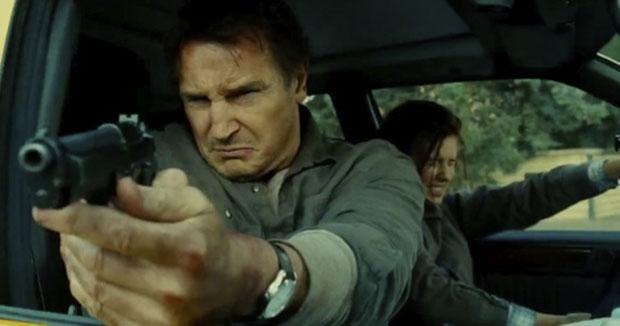 Taken 2 exploded in its opening with $50 million and a spectacular per screen average of $13,657 in wide release. The film had one of the biggest October openings ever, showing momentum that should propel it in the coming weeks. Last weekend's box office topper, Hotel Transylvania, held strong in its second weekend, landing second in the box office ranking. Frankenweenie, meanwhile, failed to appeal to large numbers of theater-goers, only placing fifth on the box office chart in a wide open.

1. Taken 2
Gross: $50 million
Screens: 3,661 (PSA: $13,657)
Week: 1
Taken 2 dominated the weekend with one of October's best openings in box office history. By contrast, the first Taken cashed in at $24.71 million in 2009 when it opened in 3,183 theaters. Not bad, and the performance helped propel the overall box office to another stellar weekend after six weeks in the doldrums, which ended last weekend spearheaded by Hotel Transylvania and Looper. Estimates had Taken 2 coming in around the mid-30 million range, but it far exceeded that low-ball figure. Taken 2's stellar result is outpaced by Paranormal Activity 3, which took in just over $52.56 million on October 21, 2011.
2. Hotel Transylvania (3-D, animation)
Gross: $26.3 million (Cume: $75,958,532)
Screens: 3,352 (PSA: $7,846)
Week: 2 (Change: - 38%)
Last weekend's top earner held strong in its second weekend with a decline of only about 36 - 38 per cent according to estimates. The Sony animation title added just three additional screens for its second round and its nearly $76 million cume means the title will easily match its estimated $85 million budget this week.
3. Pitch Perfect
Gross: $14,736,400 (Cume: $21,582,608)
Screens: 2,770 (PSA: $5,320)
Week: 2 (Change: +186%)
The title added 2,435 screens in its second weekend and the result was a move up the box office chart to third from its first frame at number six last week and a 186 per cent jump in revenue. Bring It On ($17.4 million) and Footloose, which opened one year ago at nearly $15.6 million suprassed Pitch Perfect. But its domestic total already surpasses its estimated $17 million production budget and it should make it to $50 million domestically.
4. Looper
Gross: $12.2 million (Cume $40,300,651)
Screens: 2,993 (PSA: $4,076)
Week: 2 (Change: - 41%)
Last week's strong number 2 opener hell to fourth place with a 41 per cent drop in its box office after adding one more location. The title has already more than matched its $30 million production budget and will likely see northward of $70 - 80 million before it's all said and done.
5. Frankenweenie
Gross: $11.5 million
Screens: 3,005 (PSA: $3,827)
Week: 1
Ouch! Tim Burton's latest stop motion pic has not caught audience attention the lead up and marketing campaigns might have suggested. His previous stop motion pic, Corpse Bride opened in much more limited release, so comparisons are a bit difficult. But that title bowed in only 5 theaters with a $77,633 average, but it went on to a $53,359,111 domestic cume in 2005 and $19.1 million in its initial wide expansion.
6. End of Watch
Gross: $4 million (Cume: $32,845,946)
Screens: 2,370 (PSA: $2,370)
Week: 3 (Change: - 48%)
The Jake Gyllenhaal and Michael Pena cop drama tumbled 48% after losing 410 theaters in its third weekend. Still, the film has done very well considering its $7 million budget, though it may struggle to reach $50 million.
7. Trouble With the Curve
Gross: $3,870,000 (Cume: $29,709,823)
Screens: 3,003 (PSA: $1,289)
Week: 3 (Change: - 46%)
Last week's fourth placed film landed at 7th in its third round. It's per screen average also tumbled from last week's $2,320 even as the title shed 209 theaters.
8. House at the End of the Street
Gross: $3,698,000 (Cume: $27,531,144)
Screens: 2,720 (PSA: $1,360)
Week: 3 (Change: - 48%)
House at the End of the Street ranked fifth in its second frame last week and placed 8th over the weekend after it lost 363 theaters vs one week previously. Its cume should top $30 million in the next week, tripling the thriller's production budget.
9. The Master
Gross: $1.84 million (Cume: $12,315,329)
Screens: 864 (PSA: $2,130)
Week: 4 (Change: - 31%)
The big Oscar contender added only 8 theaters over last week following its huge theater jump two weeks ago. When it opened with a massive $147,262 per screen average in the second weekend of September following its Venice and Toronto premieres it seemed the sky was the limit, though it appears to have arrived more or less back to earth.
10. Finding Nemo (3-D, animation)
Gross: $1,555,000 (Cume: $38,969,000)
Screens: 1,746 (PSA: $890)
Week: 4 (Change: -61%)
Likely the final stand of the re-release's life in the top 10. The second round of Finding Nemo will be hard pressed to reach half the $94 million cume that The Lion King re-release last year.
[Sources: Rentrak, Box Office Mojo]