Sopranos Creator David Chase Fulfills A Dream In Not Fade Away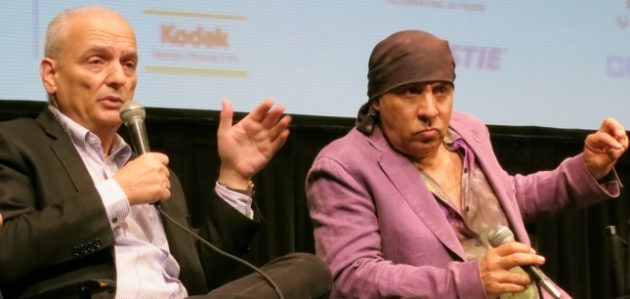 Sopranos writer/director/producer David Chase resisted saying his latest venture, Not Fade Away is autobiographical, but it certainly resembles large swaths of his upbringing. Born in Upstate New York and raised in suburban New Jersey, he used to dream of becoming a successful drummer in a rock band. He is also unabashedly a fan of '60s-era music and all those elements fit front and center in his first big return to the spotlight since The Sopranos had its final shot in 2007. Fittingly, James Gandolfini stars as the father in Not Fade Away, the title of course being an ode to the 1964 Rolling Stones cover of a song credited to Buddy Holly and Norman Petty. The film will have its Gala World Premiere as the Centerpiece of the New York Film Festival Saturday night.

In the film, however, Gandolfini is anything but the underworld kingpin he is in the famous HBO series that made him a household name. The movie celebrates youth and more specifically, youthful angst. The so-called generation gap - a term that was popularized in the era - hits the audience over the head throughout the film. The conflict between accepting life's conventions and the innate yearning for something different is liberally dished out.
"The theme for the movie for me is the conflict between security and freedom," Chase said at a Lincoln Center pre-gala screening Friday. "Humans are always in that conflict. There's the desire to be babied and taken care of. And there's the need to say, 'go fuck yourself, I want to do what I want, I want to be free to do what I want.' That's what initially made me interested in doing this."
In Not Fade Away John Magaro stars as Doug, the nucleus of a pack of suburban Jersey kids who throw off the conservative shackles of their parents and grow their hair out, put on some funky threads, party at each other's house's like rock stars and dream of being - well, rock stars. He trades steely glances from his disapproving middle class father (Gandolfini) as he and his pack of spirited friends slowly but assuredly take on the physical and philosophical offshoots of the counter-culture. While it is a rock 'n' roll coming-of-age movie, there is no obvious end point. In the kids' minds, they're on the threshold of making it, though internal jealousies and conflicting ambitions hold them back.
Still, the band gets progressively better and Doug, originally playing drums, eventually takes over lead vocals when it becomes apparent he has the better voice, which of course enrages the guitarist/singer and now competitor he in effect replaces, Eugene (played byBoardwalk Empire's Jack Huston).
Musician, songwriter, producer and all around rock legend Steven van Zandt served as executive producer/Music Supervisor on the film and told Chase that it was important to find actors who could 'play the music.' Still, Magaro said they were initially very green to music when they came on board.
"We were terrible. We'd eek out a song and we were just terrible," he said. "[At first] we'd look at David and he'd say something like, 'that's very encouraging…'"
"Part of the authenticity is that most bands are cover bands, or they should be," said Van Zandt - better known as Little Steven. "But these days, not so much. Most good bands - Rolling Stones, Beatles, E Street Band - they spent a few years covering songs, analyzing them [deconstructing] them and that's how they learn."
Van Zandt helped create some original music for the movie, but if there's a soundtrack that comes out - by all means get it. Mostly the band, however, does cover songs and the film is peppered with hits from the era. Just try and not wiggle a bit in your chair while watching this movie. Chase said the film has been an idea of his even before The Sopranos came along and it may be easily interpreted as a nostalgic trip down memory lane. The music and heartfelt performances do carry the film, though it did seem to fall a bit flat ultimately.
"I don't want to get into this thing about bragging about the '60s. But I think I was lucky to live through that time," said Chase. "I was living in one of the best musical eras in history. Music at that time was a way into everything. It's how I learned about art, poetry, fashion, humor , film, politics. Music was everything. And I don't think that's the case anymore."