WATCH THIS: Or Don't If Your Fantasy Of Taken 2 Star Liam Neeson Involves A Ripped Body & Boxer Briefs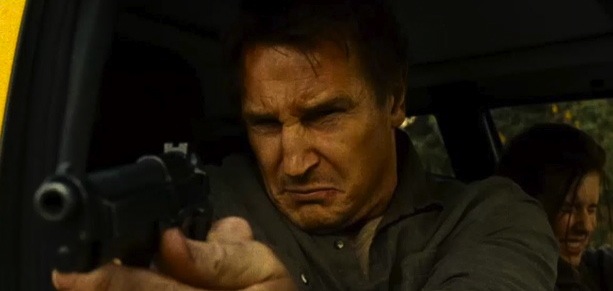 I'll give Liam Neeson this much. He's even braver in real life than the hard asses he plays in the movies. The New York Daily News  reports that Neeson, 60, raised $20,000 for breast cancer research on The Ellen DeGeneres Show on Monday by stripping down to a pair of pink bikini briefs and entering a dunk tank on the talk show.
"If I take this off, does the $10,000 become $20,000?" Neeson asked DeGeneres as he doffed the pink robe he was wearing to reveal the similarly hued Speedo.
"We get fined if you take those off," the talk-show host said pointing to his briefs.
After taking the hot seat, he was promptly doused with with a huge tub of water when an audience nailed the tank target.
Kudos to Neeson for sucking it up for charity, but, at the risk of sounding like a real a-hole, I'm going to suggest that he didn't suck it up enough. Judging from the rolls of belly fat visible in the video, I think that Neeson should either adopt a high-protein diet and Hugh Jackman's personal trainer  or begin employing what I am calling "The Willis Technique" since seeing Looper.
Watching Rian Johnson's impressive but depressing time-travel film, I noticed that Willis, who looks more fat and happy than John McLean in the film — that's a Die Hard joke — tended to be well-covered in his bedroom cuddle scenes with Qing Xu. I'm sure there's a very good reason that Willis favored chaste white t-shirts and other cover-ups while spooning with the love of his life, but I  have to wonder if some bright person on that set, maybe Bruce himself, realized that the simple undergarment would hide a multitude of fleshy sins that could very well have made Johnson's plausible dystopian future unbearable.
Check out the video below and tell me you don't think the Willis Technique should not become de rigueur among actors of a certain age.
Follow Frank DiGiacomo on Twitter.
Follow Movieline on Twitter.