Hotel Transylvania & Looper Lead A Box Office Resurgence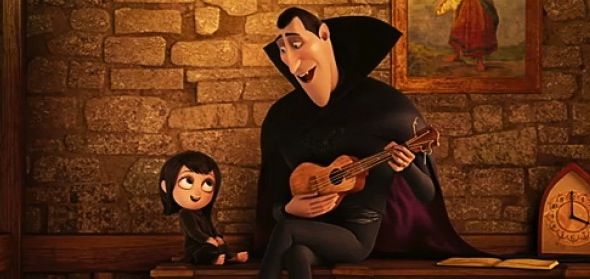 After box office doldrums in late summer and the start of fall, Hollywood finally had a weekend it can celebrate. Hotel Transylvania and Looper debuted to great numbers, helping to end a five week slump. The top ten accounted for just over $104.4 million with the top two titles accounting for $64 million of that total. Another newcomer, Pitch Perfect also opened robustly, ranking sixth in the chart despite being in only 335 theaters. Won't Back Down, however, opened weak, providing a bit of a reality check.

1. Hotel Transylvania
Gross: $43 million
Screens: $3,349 (PSA: $12,840)
Week: 1
Hotel Transylvania soared atop the box office, ending a five week slump in the overall chart. The Columbia/Sony title had the biggest September roll out ever, beating 2002's Sweet Home Alabama and its $35.65 million debut.
2. Looper
Gross: $21 million
Screens: 2,992 (PSA: $7,086)
Week: 1
The sci-fi action thriller had a solid debut. This is a great showing for Joseph Gordon-Levitt who clearly has crossed over into film stardom vs. a niche sensation.
3. End of Watch
Gross: $8,000,265 (Cume: $26,168,897)
Screens: 2,780 (PSA: $2,878)
Week: 2 (Change: - 39%)
Word-of-mouth helped keep End of Watch strong in its second weekend. Last week's box office topper added 50 theaters and grossed a solid $8 million-plus. Not bad for a pic with a production budget estimated at $7 million.
4. Trouble with the Curve
Gross: $7,530,000 (Cume: $23,726,000)
Screens: 3,212 (PSA: $2,344)
Week: 2 (Change: - 38%)
The Clint Eastwood-directed pic remained in the same number of venues in its second turn and dropped to fourth from third in its initial run.
5. House at the End of the Street
Gross: $7,154,000 (Cume: $22,224,969)
Screens: 3,083 (PSA: $2,320)
Week: 2 (Change: - 42%)
Last week's number 2 film stayed in the same number of theaters and had a less than robust weekend with a 42% drop. Still the thriller's production budget was an estimated $10 million, which it has already doubled, minus P&A etc.
6. Pitch Perfect
Gross: $5,212,600
Screens: 335 (PSA: $15,560)
Week: 1
This is a huge opening for the Universal comedy. It has by far the least number of theaters among the titles in the top ten, yet it still managed to land in the sixth spot. The feature had the biggest per screen average in the top ten and indeed any title in theatrical release over the weekend.
7. Finding Nemo (3-D, re-release)
Gross: $4,066,000 (Cume: $36,475,000)
Screens: 2,639 (PSA: $1,541)
Week: 3 (Change: - 58%)
The 3-D re-release of the Disney animated film lost 265 theaters in its third round and suffered a steep 58% drop compared to the previous week. Likely no surprise that it will not do the huge business The Lion King 3-D re-release did last year, which cumed over $94 million.
8. Resident Evil: Retribution (3-D)
Gross: $3 million (Cume: $38.7 million)
Screens: 2,381 (PSA: $1,260)
Week: 3 (Change: - 55%)
Last week's number 5 film lost 635 theaters and had a hefty 55% drop in its weekend take. Still, better than the 68% drop it had in its second turn and it will be unlikely it can make the lifetime gross of the previous three installments of Resident Evil, though it should surpass the first version of the series, which grossed just over $40.1 million in 2002.
9. The Master
Gross: $2,745,000 (Cume: $9,633,070)
Screens: 856 (PSA: $3,207)
Week: 3 (Change: - 37%)
The smash record-breaking open added hundreds of theaters last week and another 68 screens this weekend. However, it appears to have reached its limit, with a 37% drop in gross despite still being in a relatively small number of theaters. Paul Thomas Anderson's There Will Be Blood cumed over $40 million in '07, but now there may be some question as to whether his latest will do the same.
10. Won't Back Down
Gross: $2.7 million
Screens: 2,515 (PSA: $1,074)
Week: 1
The fourth weekend opener in the top 10 was also by far and a way the weakest. The Viola Davis and Maggie Gyllenhaal starrer should drop a large number of screens going into its second week and will likely have a short theatrical run.
Video available on YouTube.
[Sources: Hollywood.com, Box Office Mojo]