New Life Of Pi Trailer Debuts Ahead Of New York Film Festival Premiere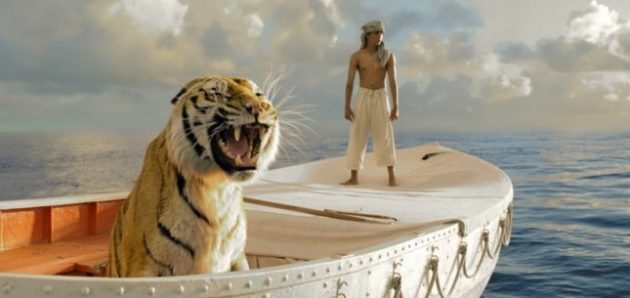 Just in time for its World Premiere at the New York Film Festival this Friday, a new and more sweeping trailer for Ang Lee's Life of Pi has hit the web, setting up the 3-D adventure based on the 2001 novel by Yann Martel. The fantasy-adventure follows "Pi," an Indian boy who survives a shipwreck and is stranded on a boat in the ocean with a Bengal tiger along with some other charming critters.

The trailer sets up the ship wreck that sees Pi (newcomer Suraj Sharma) survive the disaster at sea and finds himself in the company of the tiger, set to the tunes of Coldplay's Paradise. Life of Pi, which also stars Irrfan Khan, Gérard Depardieu, Shravanthi Sainath, Suraj Sharma and Tabu, shot in Taiwan and India earlier this year.
20th Century Fox will release Life of Pi November 21st.
Official log-line:
Director Ang Lee (Brokeback Mountain, Crouching Tiger, Hidden Dragon) creates a groundbreaking movie event about a young man who survives a tragic disaster at sea and is hurtled into an epic journey of adventure and discovery. While marooned on a lifeboat, he forms an amazing and unexpected connection with the ship's only other survivor - a fearsome Bengal tiger.