Greta Gerwig Goes Lovably Awkward In Frances Ha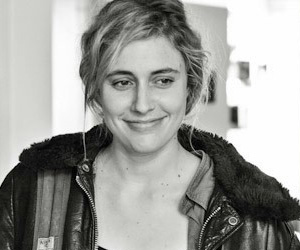 Greta Gerwig has gone from so-called Mumblecore actress, appearing in indie titles LOL, Hannah Takes The Stairs and Nights and Weekends to bigger fare by the likes of Ivan Reitman and Woody Allen in No Strings Attached and the recent To Rome with Love. But what most audiences may not know, is that she's picked written some of the material she's played on screen, including her latest Frances Ha, which she co-wrote with director Noah Baumbach. The comedy is Gerwig's second match-up with Baumbach following 2010's Greenberg and the pair began bouncing ideas off each other, eventually creating the hysterical black and white feature that debuted at the recent Toronto International Film Festival and will be having its U.S. premiere at the upcoming New York Film Festival.

"We started trading some ideas after Greenberg Gerwig said in New York this week. "I knew I wanted to work with Noah again, and luckily he felt the same way."
Baumbach and Gerwig emailed sent email back and forth, creating Frances Ha's electric personalities and hypnotic banter. In the film, Gerwig plays Frances, a New Yorker who is constantly on the move. Her best friend Sophie (Mickey Sumner) ups and moves into a plush apartment with a friend in New York's TriBeCa neighborhood, leaving Frances to fend for herself. A budding dancer, she is dropped from her apprenticeship at a dance company, but her slow descent never does little to undermine her determination to succeed. Friendship is at the heart of the film and the sometimes racy lifestyle of twenty-somethings living in New York is played out honestly, even with some discomfort.
"If you want to get technical about it, anything other than women falling in love is under-represented across the board [in movies]," said Gerwig. "When we were writing it, Frances and Sophie emerged rather than something that was imposed. It became clear that this was the most important relationship in her life and we decided that that was the story we would focus on."
Though Gerwig and Baumbach were obviously very aware of the script, the Oscar-nominated director of The Squid and the Whale decided not to let the other actors see the entire screenplay. He decided to experiment with actors only focusing on only their material and be left in the dark as to how their words and deeds fit into the bigger picture.
"I thought there might be something interesting to having actors play at the moment and what was in front of them instead of having them in some ways tell the overall story, so that was the experiment…I didn't want them to think how this scene falls in the movie," said Baumbach. "They may know all too well where a scene falls in the movie. You don't want the characters to know that really."
Gerwig received praise for her performance at a pre-NYFF screening of the film this week. Her character is a case study in contrasts. She's smart, but makes bad decisions. She's determined, but is constantly stumbling. She has strong relationships, but she's often left in the lurch. Gerwig wrestled up a persona that would have been difficult for just any actor to pull off Frances' unique peculiarities. Asked how she tackled Frances, Gerwig wasn't quite sure how her personality came about.
"I never really particularly meant to have a different way of acting than anyone else," she said. "I don't mean to sound like Johnny Cash, but that line, 'I play guitar like this because I don't know any other way' - I don't know any other way to act."
Continuing she added, "It's always weird when you talk about acting because it inevitably descends into something mystical. But it's from the inside coupled with needing to know why I am saying something. Working on the script doesn't make acting any easier. It actually in some ways makes it more difficult because you know what something is supposed to be."
IFC Films picked up Frances Ha and will release the film in theaters and VOD at a future date.