Clint Eastwood Adds More To That Chair Speech; Captain America Is The U.S. President In New Comic: Biz Break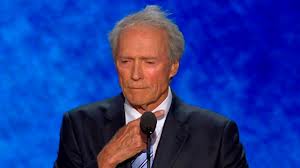 Also in Tuesday afternoon's round-up of news briefs, Tribeca Film's War Witch has been selected to represent Canada in the Oscars race. CBS has set a date for the People's Choice Awards. And Gong Li will star as a Chinese Empress in a new U.S.-China co-production.

War Witch Selected by Canada for Best-Foreign Language Oscar Consideration
Kim Nguyen's War Witch has been selected to represent Canada in the foreign-language category by TeleFilm Canada, which serves as the pan-Canadian selection committee. Set in Sub-Saharan Africa, War Witch (Rebelle) revolves around Komona a 14-year-old girl who tells her unborn child growing inside her the story of her life since she has been at war. Everything started when she was abducted by the rebel army at the age of 12. Tribeca Film will release the film in the U.S. in 2013.
Around the 'net…
Clint Eastwood Reveals Social Liberalism and Fiscal Conservatism on Ellen
He joked on GMA, "If somebody's dumb enough to ask me to go to a political convention and say something, they're gonna have to take what they get." And revealed more later on Ellen, "The condition of society right now, with the high unemployment rates and the tremendous debt we're increasing and the government spending," he said, "we'd think there'd be [many more worthy issues] to think about [rather] that worrying about gay marriage," THR reports.
People's Choice Awards Set for January 9th
CBS will air the fan-chosen nods January 9th in a telecast from the Nokia Theater in L.A. at 9pm E.T., Deadline reports.
Captain America Gets a New Job Title: President of the United States
One of Marvel Entertainment's best-known heroes will trade in his NYC apartment for the White House in the pages of The Ultimates, a series set in a U.S. torn apart by factionalism, out of control mutant hysteria and secessionist support, A.P. reports.
Gong Li Eyes The Last Empress
Gong Li will star in the project which tells the story of Empress Cixi's life and her complex relationships with Emperor Guang Xu and an American Imperial advisor. The U.S.-Chinese co-production is set to begin production in the final quarter of 2013, Deadline reports.