Newcomers Resident Evil: Retribution & Finding Nemo Lead A Blasé Box Office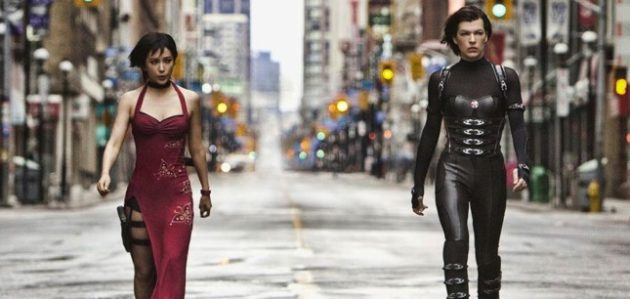 The overall box office weekend was nothing to brag about, with titles falling in the top 10 having the second worst weekend of the year. The overall top 10 only took in just over $65.36 million of which the top two titles, Resident Evil: Retribution (3-D) and Finding Nemo (3-D) accounted for $38.6 million, meaning the bottom 8 only accounted for about $26.76 million - ouch. Though not in the top ten, but with far fewer theaters compared to their studio brethren, the real story goes to The Master, which set a per-screen average record of over $145K in its roll out. And Arbitrage placed in the top 12 with a $10,506 average in just under 200 theaters.

1. Resident Evil: Retribution (3-D)
Gross: $21.1 million
Screens: 3,012 (PSA: $7,005)
Week: 1
The fifth installment of Resident Evil trumped fellow opener Finding Nemo (3-D). The newcomers performed decently well, but did not lift the overall lackluster domestic box office. $3 million of Resident Evil's weekend gross, or about 14%, came from IMAX. The previous installment, Resident Evil: Afterlife opened in 2010 in 3,209 theaters, grossing just over $26.65 million. The first Resident Evil bowed in 2002 in 2,528 theaters, grossing just over $17.7 million its opening weekend.
2. Finding Nemo (3-D) (Re-release)
Gross: $17,504,000
Screens: 2,904 (PSA: $6,028)
Week: 1
Landing at number two for the weekend, but the 3-D re-release's $17.5 million take compares with The Lion King's 3-D re-release, which grossed $30.2 million when it opened exactly one year ago. Still, the numbers are similar to the 3-D release of Beauty and the Beast, which came in at $17.8 million.
3. The Possession
Gross: $5.8 million (Cume: $41,167,112)
Screens: 2,860 (PSA: $2,028)
Week: 3 (Change: - 38%)
The Possession took third place in its third week, but it reflects an overall depressed box office. Its $5.8 million take compares to number two Finding Nemo with over $17.5 million, so a third place finish is really a reflection on the recent box office overall. The Possession added 26 locations in its third round and its weekend gross declined by 38% from the prior week.
4. Lawless
Gross: $4,219,000 (Cume: $30,140,754)
Screens: 3,063 (PSA: $1,377)
Week: 3 (Change: - 30%)
This is by far and away Australian-born director John Hillcoat's biggest feature success to date and there is still more life to the feature starring Sia LaBeouf and Tom Hardy. The period drama lost 75 theaters compared to the previous weekend, but its overall gross only declined a fair 30%.
5. ParaNorman (3-D, animated)
Gross: $3,039,464 (Cume: $49,335,710)
Screens: 2,326 (PSA: $1,307)
Week: 5 (Change: - 28%)
Still making it in the top 5 in its fifth weekend out despite competition from 3-D animated newcomer Finding Nemo, ParaNorman actually inched up a spot in the box office order from last week's sixth spot placement. Its overall gross dropped just 28%, which shows the animated feature still holding some momentum despite being in 530 less theaters compared to the week prior.
6. The Expendables 2
Gross: $3.03 million (Cume: $80,289,979)
Screens: 2,896 (PSA: $1,046)
Week: 5 (Change: -39%)
The Sly Stallone action-feature sequel hit the ground running when it opened, but suffered a large drop last week and another sizable drop in its fifth weekend out. It slid to sixth place from last week's fourth, grossing just over $3 million compared to last weekend's $4.75 million. It dropped 364 theaters in its fifth round. It may be difficult for Expendables 2 to match the overall $103 million box office take Expendables grossed in 2010.
7. The Words
Gross: $2,880,000 (Cume: $9,159,885)
Screens: 2,801 (PSA: $1,028)
Week: 2 (Change: - 39%)
The Words had a soft start last weekend and the Bradley Cooper Sundance Film Festival drama continues to fizzle. The title remained in the same number of theaters, but expect exhibitors to drop the feature, which may be hard-pressed to stay in the top 10 next week. It opened in third place last week with a $5 million gross.
8. The Bourne Legacy
Gross: $2,875,250 (Cume: $107,816,910)
Screens: 2,170 (PSA: $1,325)
Week: 6 (Change: - 28%)
Despite a big plunge last weekend and losing nearly 600 theaters, The Bourne Legacy managed to slow down the skid in its sixth round with a gross decline of 28%. Last week it had dropped almost 48% compared to week 4.
9. The Odd Life of Timothy Green
Gross: $2,511,000 (Cume: $46,284,000)
Screens: 2,415 (PSA: $1,040)
Week: 5 (Change: - 31%)
The peculiar fantasy feature also managed to put the breaks on a slide that brought the title down over $40% last weekend, though the title only scraped out a PSA just over $1K compared to last week's otherwise slow showing of $1,343.
10: The Campaign
Gross: $2,405,000 (Cume $82,857,000)
Screens: 2002 (PSA: $1,201)
Week: 6 (Change: - 29%)
Say adieu (most likely) to The Campaign's run in the top 10. It will still reap some cash as it continues its theater run. The Will Ferrel comedy compares to the actor's 2010 action-comedy The Other Guys, which grossed just over $119 million.
------
12. Arbitrage
Gross: $2,069,770
Screens: 197 (PSA: $10,506)
Week: 1
Though only in limited release, Arbitrage is worth noting because it placed 12th in the overall box office its opening weekend, despite being in just under 200 theaters.
------
18. The Master
Gross: $729,745
Screens: 5 (PSA: $145,949)
Week: 1
This was truly the big story of the weekend in terms of box office. It is the largest non-animated opening per-screen average ever. It outranked Moonrise Kingdom, which had set a new PSA average record only in May at $130,749. With Oscar buzz coming out of its debut at the recent Venice and Toronto film festivals, the film should have a healthy b.o. life this fall. It will be very interesting to see how the Paul Thomas Anderson-directed feature starring Philip Seymour Hoffman and Joaquin Phoenix will fare in wider release.