Film Society Of Lincoln Center Fills Richard Peña Post With 2 Appointments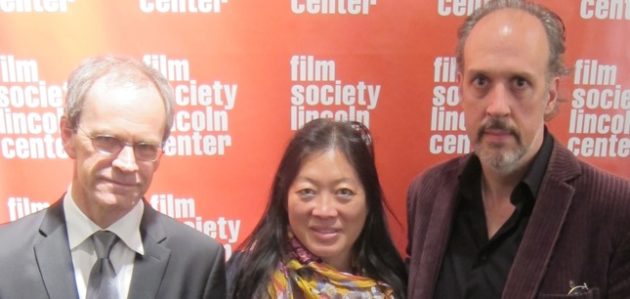 Ending nearly a year of speculation, the Film Society of Lincoln Center announced two replacements for long-serving Program Director Richard Peña, who is set to step down at the end of 2012 after serving 25 years in the post. Kent Jones will be the new Director of Programming for the annual New York Film Festival, while Robert Koehler will serve as Director of Programming, Year Round.

The Film Society of Lincoln Center said that appointing two directors to the programming team will allow the organization, which not only produces the annual NYFF but a host of other programs throughout the year, to "better serve the needs of an organization that has recently expanded its operations with the opening of the Elinor Bunin Munroe Film."
Jones began in programming with Bruce Goldstein at Film Forum, and served as the American representative for the International Film Festival Rotterdam from 1996 to 1998. He was an assumed heir to Peña, serving as Associate Director of Programming at The Film Society of Lincoln Center, and from 2002 to 2009, including the New York Film Festival selection committee from 1998 to 2009 after departing under the organization's previous Executive Director, Mara Manus. He has also served on juries at film festivals around the world, including Rotterdam, Buenos Aires, San Francisco, Venice and Cannes. In 2009, he was named Executive Director of The World Cinema Foundation.
Koehler is a film critic and festival programmer and has served as an instructor and programmer for UCLA Extension's Sneak Preview program from 2003 to 2007. In 2003, he developed the innovative film program, "The Films That Got Away," an ongoing series presenting significant recent work that has previously not screened in Los Angeles. Institutions with which the series has collaborated include UCLA Film Archive, the American Cinematheque and the Los Angeles Film Festival. In 2009, he was appointed director of programming at AFI Fest Los Angeles, where he helped create a new and focused competition section titled "New Lights," as part of AFI Fest's programming concept as a festival-of-festivals.
"Richard Peña has played a fundamental role in defining our organization and its commitment to discovering and supporting the best and most important cinema in the world," FSLC Executive Director Rose Kuo said. "Kent Jones and Bob Koehler, whose thinking and writing about cinema I deeply respect, are the perfect team to build upon Richard's vision and carry it forward."
"The New York Film Festival has always been a beacon to me – when I was young and pouring over the yearly schedule in the Sunday Times, when I moved to New York in my 20s and started to actually attend the festival, and later when I served on the selection committee" said Kent Jones in a statement. "It means a lot to me to be entrusted with its stewardship after Richard Peña, to whom I owe a lot – I'm far from alone on that count. I'm excited to be working with Rose Kuo, with Bob Koehler, with Scott Foundas, with Gavin Smith, with Marian Masone, and with the whole team at the Film Society, many of whom are old friends and work colleagues. We'll be working together to keep our part of cinema culture alive and thriving."
Added Robert Koehler, "I'm delighted and honored to join the country's finest cinema presentation organization. Especially at a time when it is embarking on a new, exciting and innovative chapter in its history."
Richard Peña will continue his involvement with the Film Society of Lincoln Center after departing his duties as Programming Director at the end of the year, helping to design and organize a new educational initiative.
The 50th edition of the New York Film Festival will take place September 28 - October 14.