Anthrax's Frank Bello Says Penn Badgley 'Blew Me Away' In Greetings From Tim Buckley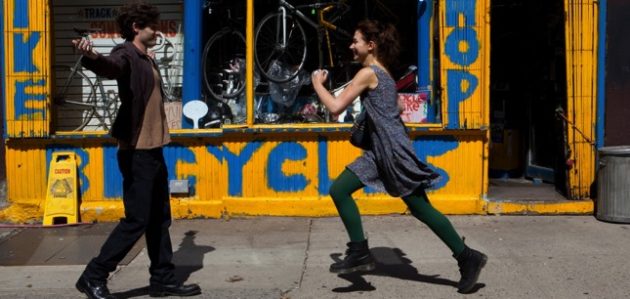 Thrash metal god Frank Bells says Penn Badgley nailed his portrayal of the late singer Jeff Buckley in Greetings From Tim Buckley — and he's one to know. As unlikely as it may seem, the Anthrax bassist, who plays punk icon Richard Hell in the movie, is, as he put it, "a Jeff Buckley diehard forever."  And after seeing the film for the first time at the Toronto International Film Festival on Sunday night, Bello was singing Badgley's praises.
At a post-screening dinner at Bloke & 4th on King Street, Bello told me he was initially skeptical when he learned the Gossip Girl actor would be playing the sui-generis singer, but any lingering doubts he had were dispelled in Toronto. "I hadn't seen any dailies or anything before tonight, and Penn blew me away." Bello said.
The Anthrax bassist added that he was particularly impressed by what will probably become the most talked-about scene in the movie: in which Badgley does an extended octave-jumping a cappella  singing improvisation in a New York City record store.  "When Penn did that record-store scene, I was like fucking go for it dude. And he literally went for it. He let go. He became that character, " Bello said. "And, as a Buckley fan, that's all I could ask of somebody who played him.  Penn went for it. And he got it."
Directed by Daniel Algrant (People I Know),  Greetings From Tim Buckley is about Jeff's attempts to get out from under the shadow cast by his late father, singer/songwriter Tim Buckley, who's portrayed by Ben Rosenfield in the picture.  Buckley pere died from a drug overdose at the age of 28, but, despite his short life, left behind a substantial, mostly critically acclaimed body of work, including nine studio albums. Jeff Buckley was working on his second album in Memphis, Tenn. when he drowned while swimming in the Wolf River there. He was 30.
Toronto festival goers who attended the screening gave it a big round of applause at the end, but saved their most raucous cheering for Badgley, who gives a break-out performance in this picture.
At the party, Bello, who also makes memorable use of his screen time in Greetings, told me that his plan is to do more acting next year when Anthrax will be off writing a new album.  "I always wanted to be a character actor," the theatrically trained Bello told me. "I love the process."
Follow Frank DiGiacomo on Twitter.
Follow Movieline on Twitter.