Ryan Gosling: 'I'm Not Allowed to Have An Opinion' About The Media's Coverage Of My Life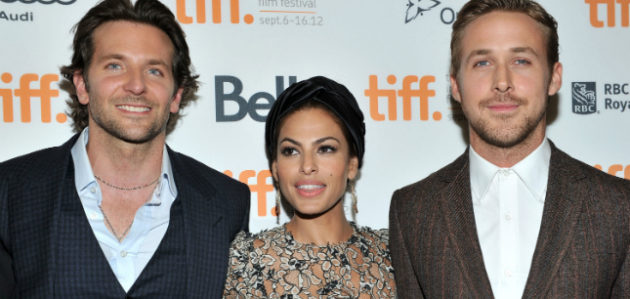 Call it the zen of Ryan.
During a roundtable interview with Ryan Gosling and filmmaker Derek Cianfrance for their latest film, The Place Beyond The Pines, I asked the actor if he felt that the media focused too much on the superficial aspects of his fame — remember the hubub over Bradley Cooper being chosen over him as People magazine's sexiest man of the year last fall? — when he keeps proving himself to be one of the finest actors working today.
"I'm not really allowed to have an opinion so I just choose to not think about it," Gosling said.  "It is what it is."
After memorable performances last year in Drive, Ides of March and  Crazy, Stupid Love, Gosling is riveting in The Place Beyond The Pines as a former stunt motorcyclist who turns to bank-robbing to support a son he fathered.  Although the film has yet to secure a distributor, the buzz at the festival on Saturday night was that it was only a matter of time.
During the roundtable interview — more of which we'll post in the coming week — Gosling and Cianfrance, who previously worked together on the 2010 heartwrencher Blue Valentine, did not look like they were worried about their film reaching a wider audience.
Asked what made the actor special, Cianfrance sounded mostly sincere when he called Gosling a "magic person who makes things better," adding: "We've all seen him save people from getting hit by a car, and we've all seen him break up fights in the city. He makes the world a better place. And that's what he does in a movie. He makes me a better filmmaker and everyone around him better."
In response to the same question, the deadpan Gosling replied: "I look like Derek."
Gosling declined to reveal the plot of his directorial debut, How to Catch A Monster, during the interview, but, elsewhere in Toronto, the star of his movie, Christina Hendricks was spilling the beans to Vulture.  The actress said she portrays a single mother "supporting two children and trying to provide a home for them " who finds herself working a "very surreal" fetish club "that gets me into a sort of predicament" while her two boys discover an underground city.  Sounds like Fifty Shades of Grey meets City of Ember.
Follow Frank DiGiacomo on Twitter. 
Follow Movieline on Twitter.