Keira Knightley & Joe Wright Risked Creative Reversal For Hypnotic, Sumptuous Anna Karenina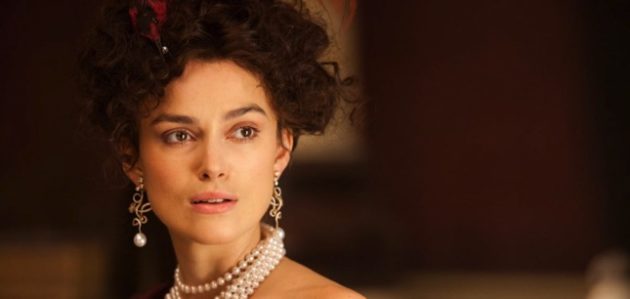 Joe Wright's latest Anna Karenina had a cast, screenplay and plan of action in hand in the spring of 2011, but the acclaimed filmmaker of Atonement and Pride & Prejudice made a bold step a mere two months before beginning the shoot. Instead of another straightforward narrative telling of the story of the epic novel by Russian great Leo Tolstoy, he opted to go for a theatrical angle in depicting the saga of a late-19th century Russian high-society aristocrat who breaks entrenched taboos and embarks in a torrid love affair with affluent soldier, Count Vronsky. In Toronto where the film is having its World Premiere Friday night, cast members including star Keira Knightley and Wright likened the sudden change to "jumping off a cliff," but they were ready for the challenge, though not all were sure if it would ultimately succeed.

"I don't know that we did know it would work," Keira Knightley, who plays Anna Karenina, said Friday morning. "With Anna Karenina it's been done so many times before and there was a sense that if you're going to tell this story again, you might as well do something that's out there." "Out there" includes depicting scenes of the titled heroine (or anti-heroine) on a stage as her marriage and social status disintegrates. Wright grew up working at his parents' puppet theater and took classes at the Anna Scher Theatre School and even acted on stage, no doubt influencing his creative point of view. And, perhaps conveniently, the reversal served-up some pragmatic pluses, according to Wright.
"A lot of the budget was being spent on hotels and travel and all this stuff that the audience is never going to get to see," he said in Toronto today at a hotel with a small group of journalists. "And I thought, if I could set this film in one place, where would it be? I was reminded of Orlando Figes' book Natasha's Dance: A Cultural History of Russia, in which he talks about Russian society as if they lived upon a stage."
Wright also said that locations he'd been visiting in Russia and England for the shoot did not appear to be the key to give his project a new vision for Anna Karenina or its star Keira Knightley.
"It just got to a point where I was walking around stately homes in England and I had people saying to me, 'Well we've made three Keira Knightley films here before,' and in Russia we had people saying, "Oh yes, we've made seven Anna Kareninas here before,' and I was going, 'Oh god, why am I doing this, it is so depressing."
The ultimate screen result is hypnotic and sumptuous, but Knightley admitted that the style will not work for everyone, though the few people who caught a glimpse in pre-premiere screenings here are already saying Knightley and others including Jude Law, Aaron Taylor-Johnson and others may be hefty contenders for next year's Oscars race.
"He demands 110% and that's exactly what we give him and it makes him an extraordinarily magical person to work with, and a frightening person to work with, because it's everything for the time you're making it," Knightley, who starred in Atonement and Pride & Prejudice said. "And that is why people said let's go with the new concept. Not because we necessarily knew it would work, but we knew this was a team that would give 110 to 150% who will try and make it work. And at least we knew we'd given it our all."
Knightley said that she had read Anna Karenina as a teenager, but re-read it again last summer and had an entirely different take on the woman she'd eventually portray. "The dichotomy of Anna is that you're not entirely sure what you should think about her. She is deceitful and manipulative and needy. But she is also wonderful, full of energy and full of love. She is also all of these things and completely culpable for what she does. She is a creature that makes you think of yourself because when you look at our own lives, the people we hurt the most are the people we love the most."
"I'm glad how daring Joe has been," concluding Knightley on Friday, "and I'm glad I jumped off the cliff with him."
Read more from the Toronto Film Festival.
Follow Brian Brooks on Twitter.
Follow Movieline on Twitter.