Today In Hollywood: Meet The Cast Of The U.K. Hit The Inbetweeners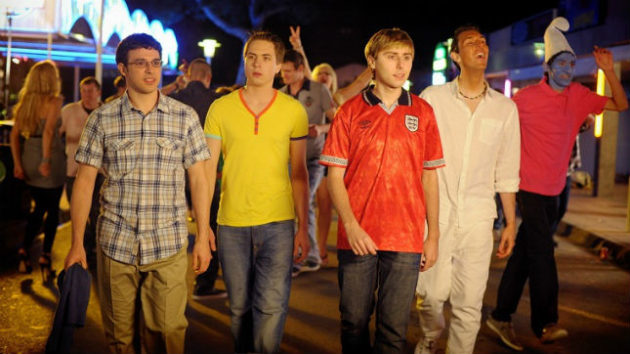 Across the pond in the U.K., the popular sitcom The Inbetweeners earned two BAFTA nominations and the Audience Award and ran for three seasons, depicting the coming-of-age mortifications of four teenage boys (Simon Bird, Joe Thomas, James Buckley, and Blake Harrison) stumbling their way through life, girls, and the assorted humiliations of young adulthood. Naturally, MTV's gone and mimicked the formula with an Americanized version, but the original foursome get their own feature-length holiday in The Inbetweeners Movie (out September 7). And if you're in the Hollywood area today, you can be a part of their British invasion.

The Inbetweeners stars will hit up a few iconic Hollywood locations today to promote their U.S. debut, and really - if you're a fan, what better way is there to celebrate the facepalm-worthy exploits of the Inbetweeners crew than by scarfing down a few Pink's hot dogs or watching them (fingers crossed) take the Saddle Ranch mechanical bull for a spin?
We'll be onhand to witness the shenanigans as they hit up the following stops:
3:50pm - Stop #1 / Pink's Hot Dogs (709 North La Brea Avenue, Los Angeles, CA 90038)
4:40pm - Stop #2 / Hollywood & Highland in front of the Grauman's Chinese Theatre
5:20pm - Stop #3 / Saddle Ranch on Sunset Blvd (8371 Sunset Blvd. West Hollywood, CA 90069)
Join us and follow along at @Movieline.