Lawless Hits No. 1 Wednesday; Werner Herzog To Direct Live Killers Concert In September: Biz Break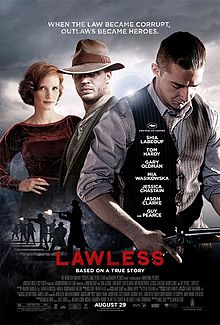 Also in Thursday morning's round-up of news briefs, a U.S. Appeals Court upholds MGM's rights to a classic Martin Scorsese film after a relative's challenge. The London Film Festival chooses its closing night film. And Michael Keaton heads for a re-imagine of an '80s classic.

Lawless Opens No. 1 Wednesday with $1.1 Million
R-rated Cannes début Lawless by John Hillcoat debuted in 2,565 theaters Wednesday, narrowly beating out Expendables 2 which held the top spot for two weeks, Deadline reports.
Appeals Court Rejects Suit to Take Raging Bull Rights from MGM
The Ninth Circuit of Appeals upholds MGM's rights to Raging Bull. Paula Petrella, the daughter of Frank Petrella (aka Peter Savage) brought the rights challenge to court. Petrella wrote a screenplay and other works about former boxing champion Jake LaMotta, his childhood friend in 1963, THR reports.
Werner Herzog to Direct the Killers Concert Video
The legendary documentary filmmaker will spearhead the band's concert video which will be broadcast live on September 18th via YouTube from New York's Paradise Theater. "I think there's gonna be an animal involved," bassist Mark Stoermer told Rolling Stone. The Guardian reports.
Great Expectations to Close London Film Festival
The pic is an all-star film adaptation of Dickens' classic novel. Starring Ralph Fiennes, Helena Bonham Carter and Jeremy Irvine, the screening marks the 200th anniversary of the author's death. The BFI London Film festival, taking place October 10 - 21, will announce its full lineup September 5th, Reuters reports.
Michael Keaton Joins New Robocop
Keaton will play the role of Raymond Sellars, which was initially slated for Hugh Laurie. The film is a re-imagining of of the 1987 classic by Paul Verhoeven. It will be released next August, Deadline reports.