Chinese Zodiac Teaser: Watch Jackie Chan Extreme-Luge In A Freaking Rollerblade Suit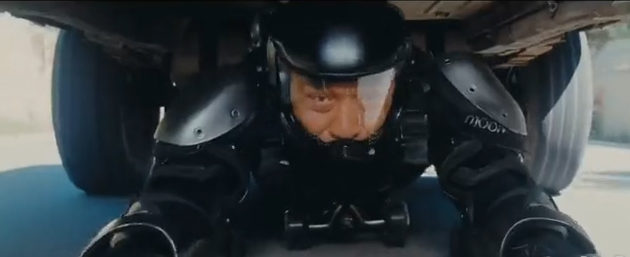 Jackie Chan is back for one last hurrah in Chinese Zodiac, an action adventure starring the martial arts legend in a story about saving ancient Chinese artifacts and stuff. More importantly, Chinese Zodiac (AKA CZ12) is what future audiences will come to know as "The Jackie Chan Roller Blade Suit Movie" thanks to scenes like those in the film's teaser in which the 58-year-old hurtles headfirst down highways and through glass windows and zooms through high speed chases with motorcycles and men with guns while wearing a suit outfitted with roller blade wheels. It looks like Jackie Chan mutated with a seal and a Wheeler from Return to Oz. In other words: WATCH THIS TEASER NOW.

Chinese Zodiac is a sequel to Chan's Armour of God II: Operation Condor, which was a sequel to 1986's Armour of God - only this time around, it seems Chan's Asian Hawk has upgraded to roller blade technology. The transportation of the future!
Earlier this year, Chan announced that the big budget actioner would be his last action picture before he retires from more physical roles in order to concentrate on being the Asian Robert De Niro.
Chinese Zodiac, meanwhile, hits Hong Kong theaters this December and also features a cameo by Kenny G.
[Twitch]