Beyond The Blockbuster: Mike Birbiglia's Sleepwalk With Me, Epic Doc Samsara, Soccer In The Slums And More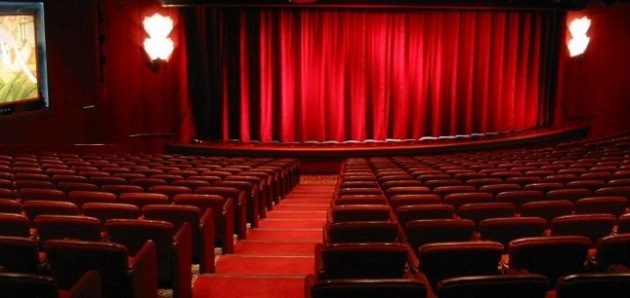 Expendables 2 looks likely to top the box office across the U.S. again, but naturally there are others waiting in the wings to capture your hard earned box office dollars and the choices do not have to be limited to studio carry-overs. Sleepwalk with Me is looking like an immediate hit, though most audiences across the U.S. will have to wait (but go for it New York). Samsara took a long, long path to its theatrical roll out this weekend, with an epic that travels the world. And two Latin American films will hit U.S. screens today. Hermano centers on two aspiring football (OK, 'soccer') stars who grow up in Venezuelan slums and Neighbouring Sounds won accolades at film festivals about a middle class Brazilian neighborhood that undergoes change once a private security firm arrives...

Sleepwalk with Me
Director: Mike Birbiglia, Seth Barrish
Writers: Mike Birbiglia, Joe Birbiglia, Ira Glass, Seth Barrish
Opens: New York's IFC Center exclusively this weekend with Los Angeles, Chicago, Boston, Washington, D.C., Minneapolis, Indianapolis, Portland, Seattle and more in coming weekends.
Indications point to a strong opening for the Sundance film that won an audience prize at the festival. Sleepwalk with Me. revolves around a burgeoning stand-up comedian who struggles with the stress of a stalled career, a stale relationship and frequent episodes of sleepwalking. "We are selling it as the first film from the creators of This American Life," an IFC Films exec noted. "We are also capitalizing on the fact that Mike Birbiglia and a cast of up-and-coming and established comics are heavily featured in the film."
Synopsis: Winner of a 2012 Audience Award at Sundance, comedian Mike Birbiglia wrote, directed and stars in this sincere and hilarious film, based on his off-Broadway show and bestselling book. It's also the first movie co-written by Ira Glass and co-produced by "This American Life."  The  story: when an aspiring stand-up fails to express his true feelings about his girlfriend and his stalled career, his anxiety comes out in increasingly funny and dangerous sleepwalking incidents. SLEEPWALK WITH ME features Lauren Ambrose ("Six Feet Under"), Carol Kane ("Taxi"), James Rebhorn ("Meet the Parents"), Cristin Milioti (star of Broadway's "Once"), plus comedians Marc Maron, Kristen Schaal, Wyatt Cenac, Jesse Klein, Henry Phillips and David Wain.
Samsara
Writer-Director: Ron Fricke
Opens: New York and Seattle this weekend followed by Los Angeles on August 31st followed by a national roll out.
"I think that the challenges were making a film that doesn't have a traditional screenplay or structure ahead of time and trusting that you'll find the film as it's made," said writer and producer Mark Magidson. "We had a structural bookend that's created and destroyed at the beginning and end of the film. Once we had that, it was a big relief. The film came together in the editing process." Spanning five years with locations in 25 countries, the film travels to sacred grounds, disaster zones, industrial complexes and natural wonders.
Synopsis: Expanding on the themes they developed in Baraka (1992) and Chronos (1985), Samsara explores the wonders of our world from the mundane to the miraculous, looking into the unfathomable reaches of man's spirituality and the human experience. Neither a traditional documentary nor a travelogue, Samsara takes the form of a nonverbal, guided meditation. Through powerful images, the film illuminates the links between humanity and the rest of nature, showing how our life cycle mirrors the rhythm of the planet.

The filmmakers approach non verbal filmmaking with an understanding that it must live up to the standard of great still photography, revealing the essence of a subject, not just its physical presence. Samsara was photographed entirely in 70mm film utilizing both standard frame rates and with a motion control time-lapse camera designed specifically for this project. This camera system allows perspective shifts to reveal extraordinary views of ordinary scenes. The images were then transferred through the highest resolution scanning process available to the new 4K digital projection format that allows for mesmerizing images of unprecedented clarity. Samsara will be a showpiece for the new, high-resolution 4K digital projection, the HD format, as well as standard digital and film projection.
Hermano (Brother)
Director: Marcel Rasquin
Writers: Rohan Jones, Marcel Rasquin
Cast: Fernando Moreno, Eliú Armas, Alí Rondon, Beto Benites, Gonzalo Cubero
Opens: In 51 theaters in 12 markets, concentrated in states along the U.S./Mexican border as well as Chicago and New York.
This Venezuelan film did not go through official government channels en route to the big screen unlike much of the country's domestic output. Director Marcel Rasquin attended film school in Australia and wrote the script in collaboration with Aussie, Rohan Jones. "The film has an international outlook," said exec Ed Arentz from Hermano's U.S. distributor Music Box Films. "The story is about a family that finds a boy in a slum and the two [brothers] grow up together and aspire to be professional football (soccer) players. They are also drawn back to the criminality of where they grew up."
Synopsis: Raised as brothers, intense teammates and competitors on the soccer field - the gregarious, swaggering Julio (Eliu Armas) and the wiry, focused Daniel/"Gato" (Fernando Moreno) have remained virtually inseparable ever since the newborn Daniel was found abandoned in a trash heap in their La Ceniza slum. The opportunity of their lives arrives when a football scout invites them to try out for the city's top professional team, just as a tragic act of violence threatens to tear them apart and prevent them from achieving their dreams.
Neighboring Sounds
Director: Kleber Medonca Filho
Cast: Irma Brown, Sebastião Formiga, Gustavo Jahn, Maeve Jinkings, Irandhir Santos
Opens: In New York this weekend followed by 10 markets in Detroit, Seattle and Florida locations. Also heading to DVD and VOD in early 2013.
Brazilian film Neighboring Sounds debuted under the radar at the International Film Festival Rotterdam last winter, but it picked up a Critics Week prize, elevating its prospects and awareness. "We heard about the film right after Rotterdam," said Ryan Krivoshey, director of distribution at Cinema Guild. "We asked for a screener and we were totally blown away." The programmers at New York's New Directors/New Films series also took notice and slotted the feature that looks at the changes a middle-class Brazilian neighborhood undergoes after the arrival of an independent private security company.
Synopsis: A palpable sense of unease hangs over a single city block in the coastal town of Recife, Brazil. Home to prosperous families and the servants who work for them, the area is ruled by an aging patriarch and his sons. When a private security firm is reluctantly brought in to protect the residents from a recent spate of petty crime, it unleashes the fears, anxieties and resentments of a divided society still haunted by its troubled past. Kleber Mendonça Filho's Neighboring Sounds is a thrilling debut by a major new voice in world cinema.
Wild Horse, Wild Ride
Directors: Alex Dawson, Greg Gricus
Opens: In limited showings beginning Friday.
Synopsis: Each year, through the Extreme Mustang Makeover Challenge, 100 people across the country attempt to tame a wild mustang in 100 days. Following this dangerous and harrowing feat performed by everyday people from every walk of life, is a public showcase that determines whether these horses can be saved from a life in captivity. Complete with first-hand footage and interviews, Wild Horse Wild Ride provides an in-depth look at the incredible relationship that blossoms between man and animal.
General Education
Director: Tom Morris
Cast: Chris Sheffield, Janeane Garofalo, Larry Miller, Maiara Walsh, Elaine Hendrix, Bobby Campo, Mercedes Masohn, Tom Maden
Opens: In theatrical limited release as we'll as iTunes and VOD
Synopsis: Levi Collins is set to go to the local University on a tennis scholarship, but he forgot to tell his parents one thing -- he didn't graduate. As a result, he must take summer school before his mom and dad discover he's failed senior science. At school, Levi falls in love with his classmate, Katie, and learns that he has to make a choice between playing tennis and receiving a proper education. General Education is a quirky comedy about a family learning to grow together.
General Education - Official Trailer 2012 from Pelican House Productions on Vimeo.