WATCH: Exclusive Clip From Faces In The Mirror, Produced By DMB's Boyd Tinsley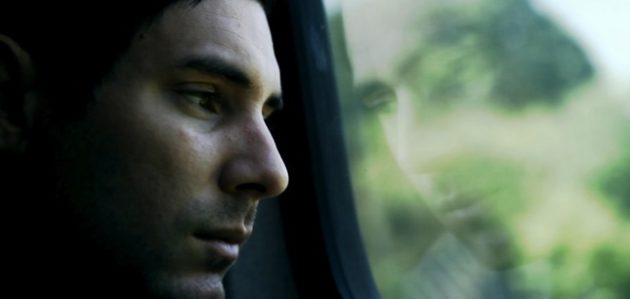 Most movies get a soundtrack after they've been filmed.  Boyd Tinsley doesn't work that way. On Aug. 30, the violinist for the Dave Matthews Band will premiere Faces in the Mirror a film that was shot after Tinsley and a group of musicians that included Matthews, other DMB members and the groups Maktub and The Silent Comedy.
Tinsley, who produced and conceived of the film, tells me that he's wanted to make a movie ever since the band shot the Dean Karr-directed video to the DMB's 1997 hit "Crash Into Me."   In December 2008, he explained, he took the first step by going into a studio with a hand-picked group of musicians.
He explained to the musical artists that he had a bare-bones concept for a story of a young man dealing with the death of his estranged father.  "I knew there was a rift and the father and the son lost contact, but I didn't know everything about the story," Tinsley said. "I didn't know how it ended."
Having expressed this rough outline, Tinsley said, "I told them, 'Go into the room and play from the heart.  Don't let your head come into it." The musicians recorded over the next five days, much of it in between sessions for DMB's 2009 album Big Whiskey & The GrooGrux King. "Everything you hear on the soundtrack happened in the moment. Music just materialized," Tinsley said. "Things happened that just don't happen."
First timer Aaron Farrington directed the moody, lushly shot film that was adapted to the music. Ryan Orr plays Ben Fisher, an angry  young man who returns home to bury his long-estranged father. On the day of his dad's funeral, Ben finds himself on a trippy, stranger-guided journey to self-realization, forgiveness and possibly love.
"It's raw and it's real," says Tinsley who will take part in a post-premiere concert after Faces in the Mirror premieres in Seattle  on Aug. 30 at 8 p.m. Eastern Time. Snagfilms.com will webcast the film.
You can check out the exclusive clip of the film here:

There's also a sizzle reel for the film that includes footage of Tinsley performing:

Follow Frank DiGiacomo on Twitter.
Follow Movieline on Twitter.