High and Low: Haigh's Sexy Weekend Stands With Lean's Brief Encounter, The Rescuers Go Blu-Ray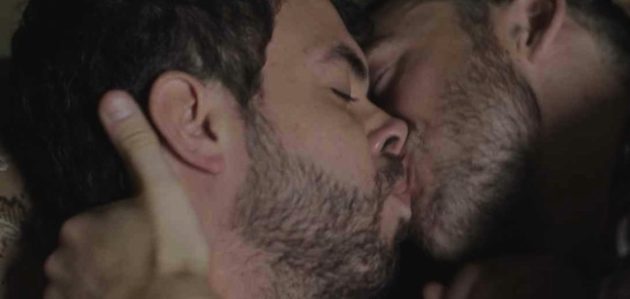 This week's DVD releases encompass everything from the sublime — Richard Linklater's Bernie, one of the best films of the year so far (Millennium Entertainment; $29.99 Blu-Ray, $28.99 DVD) — to the ridiculous — the DVD debut of the 1980s T&A epic Joysticks (Scorpion Releasing; $19.95 DVD). For my tastes, however, the highlights include a subtle but powerful British romance along with some animated Disney faves that are available for the first time on Blu-ray.
HIGH: Weekend (The Criterion Collection; Blu-ray $39.95; DVD $29.95)
Who's Responsible: Written and directed by Andrew Haigh; starring Tom Cullen and Chris New.
What It's All About: Soft-spoken lifeguard Russell (Cullen) and cynical artist Glen (New) hook up in a British gay bar, but what begins as a one-night stand unfolds over the course of the titular time span into something else entirely. As they spend time together, the two open up about their lives, let down their defenses and appear to be on the brink of falling in love. There's just one problem: Glen is about to go to the United States for a two-year arts program.
Why It's Schmancy: Following its debut at South by Southwest in 2011, Weekend felt like a revelation, not only to gay audiences, who are always starving for fresh and intelligent — and sexy and romantic — examinations of their lives, but also to mainstream critics. The latter group recognized that, with only one previous feature to his credit, Haigh had turned out a poignant tale of love and missed opportunity that can stand alongside David Lean's Brief Encounter and Linklater's Before Sunrise and Before Sunset.
Why You Should Buy It: Although there's no commentary track, this release includes several illuminating documentaries, including one where Haigh explains the mechanics of the sex scenes.  In another, scenes that the actors used to audition for their roles are compared to corresponding scenes in the the finished movie.  There's also a video essay on artists Quinnford + Scout, who shot stills on the set. Two of Haigh's short films, Cahuenga Blvd. — which has some thematic parallels with Weekend — and Five Miles Out (starring Dakota Blue Richards of The Golden Compass) are also included. Finally, there's a fine Dennis Lim essay that contextualizes Weekend in contemporary queer cinema.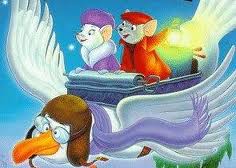 LOW: The Rescuers: 35th Anniversary Edition/The Rescuers Down Under (Walt Disney Home Entertainment; $39.99 Blu-Ray, $29.99 DVD)
Who's Responsible: Directed by John Lounsbery, Wolfgang Reitherman and Art Stevens (Rescuers); Hendel Butoy and Mike Gabriel (Down Under). Both films star Bob Newhart and Eva Gabor.
What It's All About: A mouse organization known as the Rescue Aid Society operates alongside the United Nations to help abduction victims around the world. The glamorous Hungarian agent Miss Bianca (Gabor) enlists janitor Bernard (Newhart) to help her on her missions: In the 1977 original, they track down a young girl held captive in the Louisiana bayous by the treasure-seeking Madame Medusa (Geraldine Page). For  the 1990 sequel, they head to the Australian outback to save a boy in the clutches of a vicious poacher (George C. Scott).
Why It's Fun: Based on the novels by Margery Sharp, both of these movies are cracking adventures for kids that possess enough sly wit to keep adults entertained as well. The original Rescuers was one of the few entertaining cartoon features to emerge from Disney's bleak period between the death of Uncle Walt in 1966 and the resurrection of the studio's legendary animation department with 1989's The Little Mermaid. Also, as any fan of Green Acres knows, Gabor works best with a slow-burn straight man. Lucky for her — and us &mdash: Newhart ranks among the greatest comic foils. And speaking of Green Acres, character actor Pat Buttram, who played Mr. Haney on the comedy series, loans his distinctive voice to the first Rescuers.
Why You Need to Buy It (Again): This release marks the Blu-Ray debut for both features, and both the Blu-Ray and DVD editions include a making-of for Down Under, an animated short (Three Blind Musketeers), a Disney True-Life Adventure (Water Birds), and a sing-along for the first film's theme song, "Someone's Waiting for You." The Blu-Ray also includes a deleted tune, "Peoplitis."
Alonso Duralde has written about film for The Wrap, Salon and MSNBC.com. He also co-hosts the Linoleum Knife podcast and regularly appears on  What The Flick?! (The Young Turks Network).  He is a senior programmer for the Outfest Film Festival in Los Angeles and a pre-screener for the Sundance Film Festival. He also the author of two books: Have Yourself A Movie Little Christmas (Limelight Editions) and 101 Must-See Movies for Gay Men (Advocate Books).
Follow Alonso Duralde on Twitter. 
Follow Movieline on Twitter.