Twilight Hits 1 Million Twitter Followers As Stars Opt Out Of Upcoming Conventions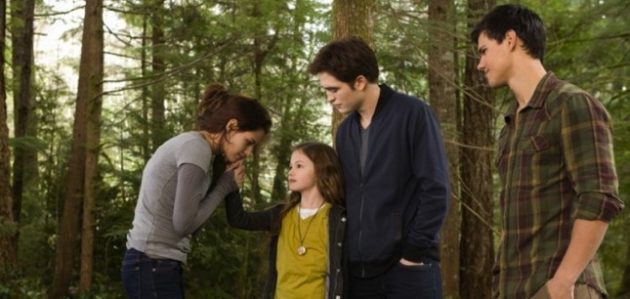 If there were any concerns that recent personal dramas between Twilight stars Kristen Stewart and Robert Pattinson would somehow sink the prospects for the final installment of the monolithic franchise, the title's Twitter handle appears to suggest otherwise. Distributor Summit Entertainment touted that The Twilight Saga's Twitter handle, @Twilight has reached 1 million followers. That milestone makes it the first-ever movie to reach that many people via the social networking site. The news comes as some good news for The Twilight Saga: Breaking Dawn - Part 2 after reports over the weekend that the pic's stars will opt out of upcoming Twilight conventions.

Summit started its Twitter handle back in October 2009 and it quickly became a trending topic. The studio, a division of Lionsgate, reports that its @Twilight stats amount to 50% more followers that the next largest film property. Summit has shared exclusive content, news announcements, first-look images and messages from the franchise's filmmakers. The profile segued 1.7 million views to the first teaser for The Twilight Saga: Breaking Dawn - Part 2. During Breaking Dawn - Part 1, a number of Twilight topics from "Twilight" to "Breaking Dawn" to "Team Jacob" and "Team Edward" trended on Twitter across the world, including 43 of the top 48 US cities.
Twi-hards, however, will have to make do with Twitter and other outlets that don't include several Twilight conventions that are in the offing later this month and in the fall. Robert Pattinson, Kristen Stewart and Taylor Lautner will sit out the final four official planned conventions. While the stars will be absent, crowds are still expected in San Antonio on August 25th, September 29th in Detroit, October 5th in Parsippany, NJ and November 3rd in Los Angeles, according to E! Online.
"The passion and dedication of Twilight fandom has been amazing and we're out to throw one last giant convention, a final gathering to see old friends that have made up the Twilight family," Creation Entertainment told E!. "Although Rob, Kristen and Taylor will not be with us this time out we will have a super lineup of other Twilight stars and the weekend will be filled with special events, movie prop and costume displays, contests, panels, auctions, parties, exclusive merchandise, music and much more, including some surprises."
The next and final chapter in The Twilight Saga: Breaking Dawn - Part 2 opens in theaters on November 16th.  Academy Award-winner Bill Condon directed both the first and second part of the two-part finale.  The film, based on the fourth novel in author Stephenie Meyer's Twilight series, was written by Melissa Rosenberg with Wyck Godfrey, Karen Rosenfelt and Stephenie Meyer producing.
Summit released a video "thanking fans for the Twitter milestone:
Watch the video via YouTube.