Lars Von Trier Wants You! Invites World To Submit Films Inspired By Albert Speer, Sammy Davis Jr.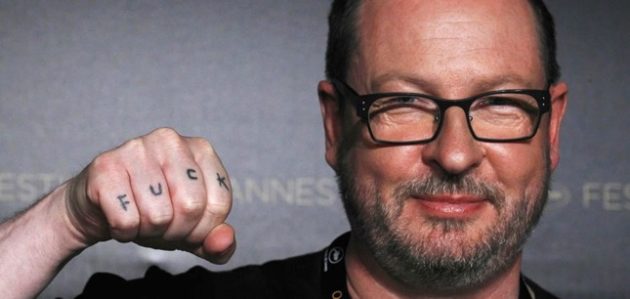 Leave it to Lars von Trier to find a connection between Nazi architect Albert Speer and Rat Pack singer Sammy Davis Jr.  The controversy-courting Danish filmmaker has invited the public to reintrepret one or more of six great works of art for a community film project that will be unveiled at the Copenhagen Art Festival.
The project is being called Gesamt, which translates to "coming together" or "a joint piece of work," said director Jenle Hallund, who has the nerve-wracking challenge of creating a cohesive film from fragments of the submissions under some very tight time constraints.  The deadline for submissions is Sept. 6, and the finished film is slated to debuty Oct.12, 2012 at Kunsthal Charlottenborg in Copenhagen.
Hallund, who is a script consultant on Von Trier's current project The Nymphomaniac as well as co-director of Limboland  (2010)  told us Gesamt has the potential to "be a testimony to the health and the soul of civilization. It should show how ordinary people appreciate and interpret big art," she says.
Make that big art that stirs the soul of Von Trier. Participants must base their submissions one or more of six different works of art, and Hallund said that the chosen few "are all pieces of art that [Von Trier] likes."
According to the announcement of the project — which was modestly titled "Lars Von Trier Challenges The People" — by the Danish Agency for Culture, prospective entrants must use as their muse(s):  James Joyce's Ulysses, "which once was banned in the United States because it was seen as obscene and lewd"; August Strindberg's play The Father, "which still stands as a striking example of a dysfunctional family"; Paul Gaugin's painting Where Do We Come From? What Are We? Where Are We Going? French composer César Franck's improvisations; or the music of the late Sammy Davis Jr., "who stepped himself into the hearts of people through song."
Also included among is the Zeppelin Field grandstand in Nuremberg, Germany that Hitler's main architect Albert Speer created.
The choice is sure to generate debate given comments Von Trier made during a press conference at the 2011 Cannes Film Festival, when he said: "I understand Hitler, but I think he did some wrong things, yes, absolutely. ... He's not what you would call a good guy, but I understand much about him, and I sympathize with him a little bit. But come on, I'm not for the Second World War, and I'm not against Jews."
When I asked Hallund if Von Trier, who likes to stir the pot, was referencing the Cannes controversy by including Speer, she replied: "I can't speak on his behalf, but if you look at some of Speers' art, it is phenomenal, and I would say that it is possible to appreciate his art independent of the ideology" to which it was attached during the reign of Hitler.
"All art can be used toward elitism and propaganda," Hallund continued, adding, "a lot of religious art has been used for that. Some people will say that the Bible and the Koran are works of art, but they have also been used toward mass murder and genocide and repression on the planet."
"We can't just close our eyes and say we can never talk about Albert Speers or Nazism," Hallund concluded. "We make ourselves more prone to repeat the past by ignoring it.
Gesamt producer Nadia Claudi told me that six submissions have already been received. One arrived from Germany, she said, and the rest are from Denmark. All but one of the submissions are filmed, and Speers right now is leading the subject matter by a thin margin: Two submissions are based on his work at Zeppelin Field; one deals with Joyce, and another, with Gaugin. She said that one entry takes on all six subjects, while the content of another submission is a bit inconclusive.
The deadline for entries is Sept. 6.  Everything you need to know about submitting your work can be found at this link.
"I just hope that  people will be very free in their interpretations of this and show us what they have in their hearts," Hallund said.  "And I would love to hear from Americans."
You heard the lady.
Follow Frank DiGiacomo on Twitter.
Follow Movieline on Twitter.