WATCH: Penn Badgley Spoofs Steinbeck In Zachary Quinto-Produced East Of Eden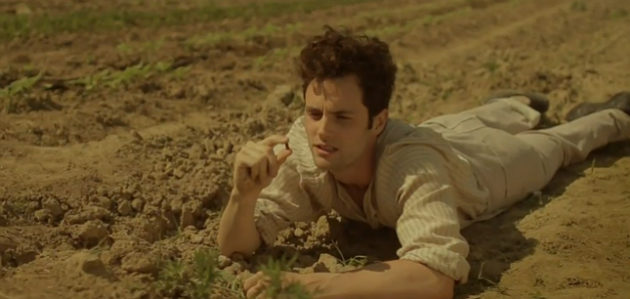 Sibling rivalry in pre-war Central California, the American dream, and... dick jokes? John Steinbeck's dusty, angsty 1952 opus East of Eden is a staple tome known to every Lit major on earth, but the tale of two brothers caught up in family dramarama hasn't been told quite like it is in Victor Quinaz's new short film (exec produced by Zachary Quinto), premiering today at the Hollyshorts Film Fest. Buoyed by the surprisingly swaggerific comic timing of Gossip Girl's Penn Badgley as the mercurial bean-farming bro Caleb Trask, this is East of Eden like you've never seen it before.

Quinaz's East of Eden, part of the web series Periods (created by Quinaz and Anna Martemucci), breathes LOLs into Steinbeck's heavy 20th century saga with a wink, giving Badgley a fantastic forum to flex his comic chops. Also pretty hilarious: Philip Quinaz as the gentle Aron Trask and Brian Shoaf as pop Adam, the ultimate disapproving dad. (That's Martemucci as the boys' whore mother and Periods regular Alison Fyhrie as Abra.)
Watch the exclusive online debut below:
The short premieres today at Grauman's Chinese in Los Angeles on opening night of the annual HollyShorts Film Festival, which screens over 300 short-form films between today's kick-off and next Thursday (August 9-16). East of Eden is just one of a collection of Periods shorts premiering at the fest, including the Quinto-starrer Before After. (Quinto executive produces the series via his Before the Door Pictures banner.) If you like what you see here, there's more good news: Details on PERIODS. Films' first feature film are set to be unveiled at tonight's screening debut.
Get info on the HollyShorts lineup here, and check out the Periods. website for more from Quinto, Quinaz and Co.
Follow Jen Yamato on Twitter.
Follow Movieline on Twitter.