Denzel Washington's Flight To Close 50th New York Film Festival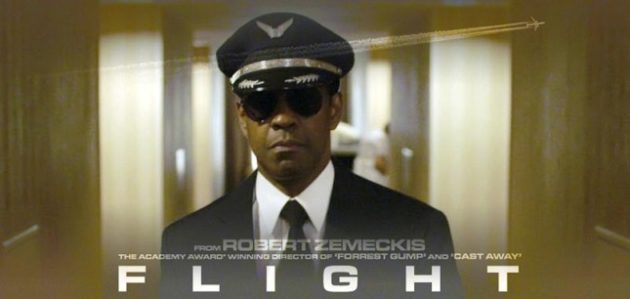 The world premiere of Robert Zemeckis's Flight will close the 50th anniversary edition of the New York Film Festival, organizers said Thursday. The action-packed thriller stars Oscar-winner Denzel Washington as Whip Whitaker, a veteran airline pilot who crash lands his plane following a mid-air catastrophe, saving nearly everyone on board.

Though he's hailed as a hero immediately after the incident, the legal, oral and ethical areas of his behavior before and immediately after become more ambiguous that initially portrayed to the public. John Goodman, Don Cheadle, Melissa Leo, Bruce Greenwood and Kelly Reilly also star in Flight, which Paramount Pictures will release in theaters November 2nd.
"Robert Zemeckis has shown his diversity as a storyteller in comedies, dramas and has skillfully translated narratives into specific effect environments," Rose Kuo, executive director of the Film Society of Lincoln Center said in a statement. "It is a pleasure to see him bring to life his complicated, tragic-comic portrait of a man in crisis, with an exceptional and poignant performance by Denzel Washington."
NYFF's selection committee includes Richard Peña, the event's long-serving chair who will retire later this year. Also on the committee are Melissa Anderson, contributor to the Village Voice, Scott Foundas, Associate Program Director, Todd McCarthy, chief film critic at The Hollywood Reporter and Amy Taubin, contributor at Film Comment and Sight and Sound
The 17-day New York Film Festival annually spotlights the latest in world cinema from both celebrated auteurs and new talent. The Film Society of Lincoln Center hosts the annually anticipated New York film event, taking place this year September 28 - October 14.