Bachelorette Red Band Trailer: Lizzy Caplan On Blowjobs, Isla Fisher On Her 'Perfect Tits'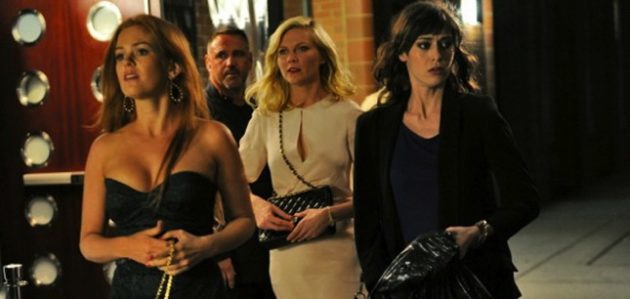 Bachelorette had my attention from the moment I saw that Lizzy Caplan is in it, but wait until you see the Red Band trailer. Caplan plays Gena, a secret romantic with a memorably filthy mouth — isn't that always the case — who joins her longtime friends and fellow bridesmaids Katie (Isla Fisher), and Regan (Kirsten Dunst) for a wild night out in Manhattan after their bride-to-be bestie insists on a tame bachelorette party.
Adam McKay and Will Ferrell are producing the picture, which writer-director Leslye Headland adapted from her own play of the same name. Headland used to be movie mogul Harvey Weinstein's assistant, an experience which inspired her to write another critically acclaimed play called Assistance.
Fetching Diet Cokes for Weinstein has paid off in at least one more way: Weinstein's Radius-TWC is releasing Bachelorette on video-on-demand on Aug. 10 and theatrically on Sept. 7.
Watch it on YouTube. 
Follow Frank DiGiacomo on Twitter.
Follow Movieline on Twitter.