20 Years Ago Today: In Praise of 3 Ninjas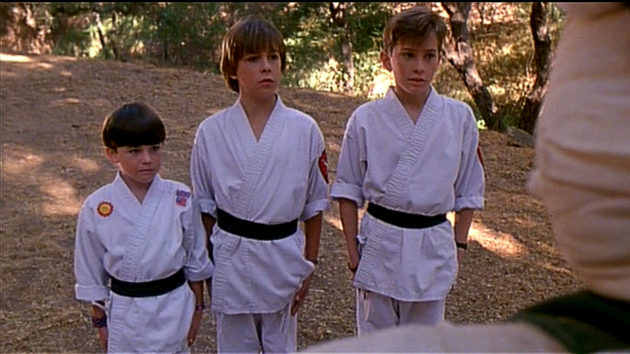 You need only utter the words "Rocky loves Em-ily" or "Light up the eyes!" to transport me to the wondrous time known as the early '90s, when timeless classics — timeless, I say! — such as Touchstone's tale of Rocky, Colt, and Tum Tum opened up new worlds for 11-year-old me. Hollywood.com's Michael Arbeiter knows what I'm talking about: "[As] rich and dense as the history of the ninja might be, it wasn't until the date of August 7, 1992, exactly twenty years ago today, that the identity of the Japanese spy and soldier really hit its potential in terms of relevance in the canon of American film. For on this date, the great Jon Turtletaub bequeathed unto the world his third directorial feature: 3 Ninjas." Preach.

Thanks to Arbeiter for bringing this '90s kid-cinema essential back into the conversation with his open letter (3 Ninjas: 20 Years Later? Sign me up!), which today rekindled my decades-long love affair with the 1992 ninja pic. Oh, who am I kidding? That flame never went out. A few years back I committed my 3 Ninjas love to the internet in an ode to star Michael Treanor, archived at the old Cinematical, but my passion for the erstwhile Rocky endures:
Treanor, 13-years-old when 3 Ninjas debuted, played Rocky with a fresh-scrubbed, clear-eyed honesty and one heckuva smile. It helped that cinematographer Richard Michelak shot his preteen actors in the dreamiest light possible (he also lensed White Wolves: A Cry in the Wild II, AKA White Wolves: The One With Mark-Paul Gosselaar). And that Rocky protected his little brothers and never gave up, even when all seemed lost. When Colt wanted to karate chop the mean kids at school, who was the voice of reason who calmed him down? Rocky. When idiot surfer-kidnappers invaded the boys' house, who came up with the plan to take them down, Home Alone-style? Rocky did. Most of all, I loved Treanor because he rocked a dreamy, short on the sides/long in the front early '90s hairdo that stayed perfectly coiffed even when Rocky ninja-jumped ten feet into the air to dunk on a pair of bullies in a basketball game to win his girlfriend's bicycle back!

Which brings me to the bane of my eleven-year-old existence: Rocky's girlfriend, Emily.
Ugh, Emily. The worst. It took a good few decades for me to get over my Emily-hate; it helped that by High Noon at Mega-Mountain, Rocky had wisened up and gotten himself a girlfriend named Jennifer, even if by that fourquel I'd already moved on to Team Colt.
But I digress! Happy 20th, 3 Ninjas. Hollywood never quite made 'em like they made you. (Except for all those sequels. And those other '90s kid flicks I wore out on VHS.) So good. So '90s. The best thing Turteltaub ever made, and yes, that includes Cool Runnings. Never forget.